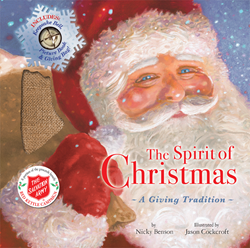 The gift of giving is the best gift of all. With this wonderful story and gift set you can teach your children to be kind and think of those who are less fortunate than they are. - Kristi's Book Nook
Wilton, CT (PRWEB) December 16, 2014
"The Spirit of Christmas: A Giving Tradition" by Nicky Benson, illustrated by Jason Cockcroft, is a book and gift set for children ages 3-7, published by Tiger Tales Books. It tells the delightful story of a young boy named Drew who receives a "giving bag" from Santa to fill with toys for less fortunate children who would not otherwise receive gifts this year. It includes a giving bag for children to fill with toy donations and a keepsake bell from Santa. A portion of the proceeds from sales benefit the The Salvation Army's Red Kettle Campaign. This magical tale of the true spirit of Christmas is sure to become a holiday classic of children's literature.
Kristi's Book Nook blog reviewed The Spirit of Christmas: "The gift of giving is the best gift of all. With this wonderful story and gift set you can teach your children to be kind and think of those who are less fortunate than they are. . . .This is a very special story and is based on author Nicky Benson's tradition in her family and is gorgeously illustrated by Jason Cockcroft."
Nicky Benson currently resides in Saint Charles, Illinois with her husband Brad and son, Drew (or 'The Drewster' as she affectionately calls him). "The Spirit of Christmas: A Giving Tradition" is her first published book.
The character of Drew is based on her son Drew and the giving bag is family tradition in the Benson family which she shares with readers of this book. "Join me in teaching our children the joy of giving," says author Nicky Benson, "and keeping the true spirit of Christmas alive."
Illustrator Jason Cockroft was born in New Zealand and raised in Leeds, England. He is best known for his internationally acclaimed picture book illustrations and for his cover artwork for the final three Harry Potter books.
The book is available at at Target, Costco, Walmart, Toys R Us, Meijer, ShopKo and booksellers online.
Tiger Tales is an independent publisher of imaginative picture and novelty books for children seven and younger. Whether the story is funny, whimsical, sweet, or sensitive, Tiger Tales books are designed to entertain and educate.
For further information visit:
http://www.tigertalesbooks.com/home
http://www.tigertalesbooks.com/book/345