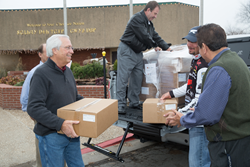 TAHLEQUAH, Okla. (PRWEB) December 12, 2014
Hunger Buster Beef Cuts, a made-in-Oklahoma company, is donating 720 pounds of beef cuts to the Cherokee Nation Foundation to supplement programs helping the tribe's citizens facing food insecurities.
Wal-Mart, Hunger Buster and Jason Christie, professional angler and Cherokee citizen, presented the donation to tribal officials Thursday.
"Our mission is to provide education assistance to Cherokee students," said Janice Randall, executive director of the Cherokee Nation Foundation. "We know hunger is often an obstacle to learning. This is a way for us to support the Nation's efforts in addressing food insecurities and provide more food for backpacks going home with kids this winter."
As part of Christie's partnership with Hunger Buster Beef Cuts and Wal-Mart, the company is donating 25 percent of all products sold at participating Wal-Mart locations to the Cherokee Nation Foundation in the form of beef sticks. Christie is sponsored by Hunger Buster as well as Cherokee Nation Businesses.
"Wal-Mart is proud to partner with Hunger Buster Beef Cuts and Jason Christie to provide a great product to our customers," said Jim Enneking, fishing buyer for Wal-Mart Stores. "We are excited to be part of the donation to the Cherokee Nation Foundation to combat hunger."
Christie and Wal-Mart chose the Cherokee Nation Foundation to receive the beef cuts in hopes a portion would be used to support backpack programs throughout the rural areas of the Cherokee Nation as well as other Nation programs addressing food insecurities. Backpack programs provide a bag of shelf-stable food to elementary, junior high and high school students at risk of going hungry over weekends and school holidays.
"I am a big advocate of giving back to the community, and Cherokee Nation is a major part of our community," said Christie. "I take pride in representing Hunger Buster Beef Cuts not only because they are a healthy snack, but because of their 25 percent donation of food to charities. I value being a part of that."
Cherokee Nation Tribal Councilor David Walkingstick, of Cherokee County, was instrumental in forming the partnership and praised the donation.
"Jason is a former educator and coach at a rural school district and is aware of some of the hardships our kids face," said Walkingstick. "His generosity to give back to our tribe and help these kids from missing one less meal is overwhelming. It takes a tribe to raise these children."
"We couldn't be more proud of Jason and his example of leadership and giving back," said Cherokee Nation Principal Chief Bill John Baker. "We will work diligently alongside the foundation to ensure this donation supplements our existing programs. I know it will be utilized by Cherokee families and Cherokee children in need."
Hunger Buster beef sticks are 100 percent beef, gluten free, low calorie, low carb, low sugar, no MSG and contain no trans-fat.
"Jason Christie is a valuable partner of ours, having been a major supporter of our products and our mission to help feed the hungry," said Richard Cranford, owner of QuarterShare LLC. "We are pleased that the Cherokee Nation Foundation is his choice to receive our donation. To provide children with nutritious snacks is a principal priority for our company."
Editor's note: For video, please visit http://www.Anadisgoi.com.
-30-
About QuarterShare LLC
Hunger Buster Beef Cuts is a privately held food company specializing in high protein and healthy food and snacks. Based in Oklahoma, QuarterShare LLC launched Hunger Buster Beef Cuts in February 2013 with three recipes: Original, Smokey Sweet and Jalapeno. Hunger Buster donates 25 percent of all products sold to food charities in the form or their beef cuts to help fight hunger. Go to http://www.hungerbuster.com for more information.
About Cherokee Nation Foundation
The Cherokee Nation Foundation is a nonprofit organization serving the Cherokee Nation, a federally recognized tribe of more than 300,000 citizens. Its mission is to provide educational opportunities to Cherokee students so that they can reach their full potential. The Cherokee Nation Foundation is a tax-exempt charitable organization under Section 501(c)(3) of the Internal Revenue Code.