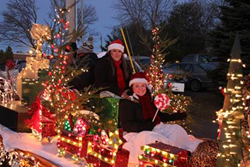 Wethersfield, CT (PRWEB) December 12, 2014
Eastside Center is getting ready for an exciting holiday season. This month, they had their float at the ready for the Festival of Lights in downtown Bangor and will be hosting a dinner for residents and families.
If not for the inclement weather, the nursing center was planning to take part in the Bangor Festival of Lights parade on Dec. 6 by having their own float. The parade, hosted by the Rotary Club of Bangor, also typically features marching bands, dancers and other performing groups to celebrate the winter holidays. After the parade, the city tree lighting would have taken place in West Market Square.
Eastside Center has participated in the Festival of Lights for many years, and they are the only national facility to participate in a parade.
National Health Care Associates Centers will also be hosting a special holiday dinner on Dec. 18 for residents and their families. For this event, they will decorate the entire building, and the staff stays and serves patients and their families dinner.
For more information about National Health Care Associates Center and their upcoming holiday events, call 207-947-6131 or visit their website at http://eastsidecenterrehab.com/ and "like" them on Facebook to receive regular updates.
About the company:
The Eastside Center for Health & Rehabilitation is a skilled nursing center that provides high-quality healthcare to the Bangor, Maine area. They have a commitment to the highest level of quality care, a focus on patient and family education and a passion for customer service. The goal of the center is to meet the ever-changing healthcare needs of the communities they serve. Eastside Center for Health & Rehabilitation strives to meet this goal by providing a comprehensive array of specialized services and programs, including clinical care, physical, occupational and speech therapies, in addition to social services and recreational therapies in a warm, healing environment. For more information, visit their website at http://eastsidecenterrehab.com/.