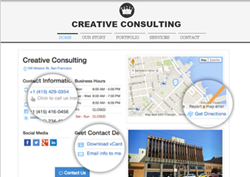 "WIX's new Hybrid App utilizes the WIX dashboard and its powerful tools allowing SMBs to manage more aspects of their business directly from WIX, helping them become more productive and saving them valuable time and resources."
Seattle, WA (PRWEB) December 12, 2014
MightyCall's ConnectHub is a new free app that integrates fully with WIX to enable website owners to easily manage all customer communication aspects of their business directly from their WIX dashboard. Adding the ConnectHub app to a WIX website creates a customizable 'Contact Us Page' with features like:

ClickToCall - Allowing prospective customers to click to call website owners for free using their computer's internet connection
Smart Contact Form - Creating callback requests or emails
Downloadable eBusiness Card
Many other great features that make it easier for prospective customers to reach out to the website owner
With ConnectHub's tool in the WIX dashboard, users get access to a powerful Activity Queue that integrates customer communications across the website's contact page, social media and business phone calls. WIX users can now easily follow up on customer inquiries on Facebook and Twitter; reply to contact requests; create, track and assign tasks to team members and more.
WIX users can also upgrade the application to include a robust virtual phone service that gives business owners access to premium features such as a Toll-Free or local phone number to look more professional, custom call menus, personalized greetings and call forwarding to any device. The customer can use automated rules to forward calls or messages to a certain device based on employee availability or time-of-day (and much more).
A free mobile App for iOS and Android phones is also available so users never miss a call, even when they are on the go.
Stijn Hendrikse, CMO of MightyCall, said: "We're very excited to be launching the MightyCall ConnectHub app for WIX. MightyCall integrates seamlessly with WIX and provides business owners with an effective solution to quickly and easily manage all their incoming customer requests from a single location. This way they provide their audience with the best customer experience possible while making sure they'll never miss another lead again."
Learn more about MightyCall.