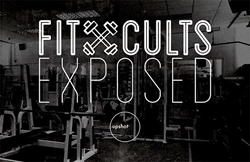 The lifestyle habits people are adopting are based on the very principles that draw activists to join cults…in a very positive way.
Chicago, IL (PRWEB) December 12, 2014
Certain consumers are adopting and participating in new health and wellness lifestyles in much the way others join and follow a cult, according to new research conducted by Upshot, a Chicago-based, independent marketing services agency.
The research revealed that today's fitness junkies aren't just looking for an adrenaline rush. As with cults, they're seeking a communal sense of belonging, shared rituals and similar ideological values as others in the group. They're passionate people focused on creating positive, holistic lifestyle experiences with like-minded individuals.
Upshot studied this trend and identified four unique, all-inclusive health and wellness lifestyle segments, or "Fit Cults." They include the Urban Caveman, the Badge Junkie, the Haute Couture Hippie and the Sweat Worshipper. Members of each lifestyle segment demonstrate a fundamental change in the way people join and engage in certain fitness activities.
This new fitness culture not only utilizes modern technology to help participants take charge of personal wellness and create holistic lifestyles based on perceptions of health and wellness; it also creates fiercely loyal brand advocates.
The four "Fit Cults" are summarized as follows:
URBAN CAVEMEN. An exclusive group of environmentally mindful cycle-enthusiasts, these bearded hipster-types are as concerned with where their food came from (think fair trade coffee and organic/local everything) as they are with getting in a daily, fossil-fuel-free bike ride or a barefoot run. Their typical day jobs may include working as a freelance designer, a barista, or at a digital startup. Their social media of choice includes Instagram, Foursquare and Twitter. Their motto: "Share the Road, Man." What keeps them up at night? Bicycle rights. Favorite brands include Chrome Bags, Vibram shoes and Schwinn bicycles.
BADGE JUNKIES. Working out is an important social activity for this group, who love team events like Color Runs, Toughmudders, 5Ks and the parties that follow. They are all about being active, but making it fun, being with friends, and of course, sharing it all on social media channels like Instagram. Their motto: "No Regrets!" They're likely to kill time at work by Googling the next crazy event and starting epic email threads. Top brands for this group are Core Power protein drinks, Kind energy bars and Shout stain remover. Favorite beers? Dos Equis and Blue Moon.
HAUTE COUTURE HIPPIES. These image-conscious designer yogis strive for inner peace and balance while making it look good. During the day they work as PR consultants, nutritionists and teachers and spend hours on Pinterest and other social platforms. Their motto is "Become One with Yourself and Look Good Doing It." Brands of choice include LuLu Lemon, Pirana, Yoga Rat and Annie's gluten free.
SWEAT WORSHIPPERS. High protein, high intensity and high performance motivate these die hard gym rats, who are dedicated to perfecting their bodies through working out under the direction of charismatic leaders and clean eating. Their motto is "Weakness Is a Choice, But So Is Strength" and their social media outlet of choice is Instagram, where they post gym selfies and photos of healthy meals and sunsets after a run. Their brands of choice include Nike, Under Armour, Isopure, Reebok and Fitbit.
Upshot's insights were based on original research data from today's consumers' unique values and attitudes, as well as the rise of both emerging and established wellness and fitness trends, providing a look into who the next generation is and what they will become.
"As health concerns become more important to consumers and marketers alike, we wanted to get a better understanding of how people view their personal relationship with fitness and wellness," said Upshot President-CEO Brian Kristofek. "We found that the lifestyle habits people are adopting are based on the very principles that draw activists to join cults. In a very positive way, they are seeking a mutual sense of belonging, healthy ritualistic activities and, most importantly, ideological commonality."
He added that fitness lifestyles are all encompassing for these cult members and include the brands they favor, the foods they choose and the way they interact with their peers. It's more than just health habits, it's how they socialize, unwind or achieve their goals.
Upshot analyzed Google search trends and over 300 million social media conversations utilizing the Meltwater Buzz Platform to uncover the latest fitness behaviors and insights to come to its conclusions.
The Upshot Planning Group worked in collaboration with The Source, Upshot's market intelligence team, a group that monitors consumer and marketplace trends via a variety of secondary sources, including the popular and trade press, the investment community (e.g., Goldman Sachs' "Millennials, Food & Fitness, May 2014), and research partners such as the Futures Co., a global strategic insight and research consultancy.
For more information, visit FItCults.com.
ABOUT UPSHOT
Upshot (upshot.net) is an independent Chicago-based marketing agency that inspires people to take action with a focus on consumer, shopper and business-to-business marketing. Clients include New Balance, Omron Healthcare, Procter & Gamble, Constellation Brands Beer Division, Subway Restaurants and Kraft Foods to name a few.