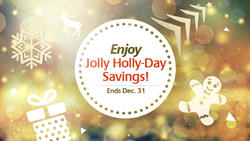 Just halfway through the workshop, we witnessed our own unique characters emerge safely into the world, and an immense harmony fell upon our group.
(PRWEB) December 12, 2014
To celebrate the winter holidays, ChangeYourEnergy.com's online shop is offering discounts all across their yoga, health and wellness products.
With over 100 discounted products including organic skincare, chakra jewelry, meditation books, CDs, DVDs, apparel, health and wellness products, fans can find that perfect gift for the yoga enthusiast, meditation student or other wellness-minded friends and family.
Visit the CYE shop to grab great savings in time for the holidays. Fans can find the perfect gift to delight and energize everyone on their list.
Sale ends December 31, 2014.
About ChangeYourEnergy.com:
ChangeYourEnergy.com is a wellness lifestyle resource based on energy philosophy and the teachings of Ilchi Lee, a meditation and brain education leader. ChangeYourEnergy.com offers accessible inspiration and practical online training to enable people to realize and activate their full human potential. The site offers lifestyle tips, health and wellness articles, exclusive seminars and personal development coaching.