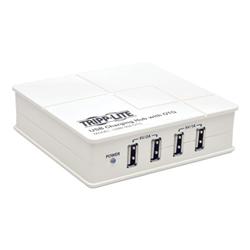 four port USB charging station gives users the ability to charge all their devices at once, plus OTG capability, all in one compact package
Chicago, IL (PRWEB) December 15, 2014
Tripp Lite, a world-leading manufacturer of power protection and connectivity solutions, has introduced a four port USB charging station that doubles as an On-The-Go (OTG) hub. The U280-004-OTG charges up to four devices simultaneously in one location. Two 5V, 2A ports provide power for tablets and other power-hungry devices, while two 5V, 1A ports handle less demanding devices like phones. The station is USB Battery Charging (BC) specification 1.2 compliant, so it supports the entire spectrum of tablets and smartphones, including those manufactured by Apple®, Microsoft® and Samsung.
When not being used for charging, the U280-004-OTG serves as a USB OTG Hub. The OTG port on the back of the unit allows an OTG-compatible smartphone or tablet to connect to and use USB devices like flash drives, keyboards and mice all at the same time. It is perfect for the home, office or anywhere users need centralized charging and OTG capability.
Key Features

Four ports for charging tablets, phones, or other mobile devices in a single location
Serves as a USB OTG Hub when not being used for charging; connect up to four USB devices to an OTG-compatible tablet or smartphone
Includes Over-Temperature and Over-Current detection and protection for peace of mind
Internal power supply eliminates the need for bulky power adapters
"It's becoming more common for people to have more than one mobile device," said David Posner, Tripp Lite Product Manager. "Our new four port USB charging station gives users the ability to charge all their devices at once, plus OTG capability, all in one
compact package."
For more information on Tripp Lite's new U280-004-OTG, go to: 4-Port USB Charging Station with OTG Capability.
About Tripp Lite
Outstanding product reliability and exceptional service have been Tripp Lite trademarks for over 90 years. Tripp Lite's innovations include the world's first UPS system designed specifically for personal computers, and the world's most trusted premium surge suppressor--the Isobar®--with more than 19 million in use. Tripp Lite maintains the highest level of ready-to-ship inventory in the industry with more than 2,500 different products, including UPS systems, rack systems and cooling solutions, PDUs, PowerAlert software for enterprise-level system management and control, surge suppressors, KVM switches, cables and connectivity products, inverters, power strips and notebook accessories. Headquartered in Chicago, Illinois, Tripp Lite maintains a global presence with fully staffed offices worldwide. Additional information, including a list of Tripp Lite's sales offices and authorized reseller partners, can be found by visiting Tripp Lite's website: http://www.tripplite.com.