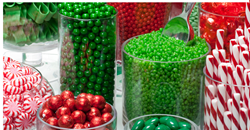 Many of [our customers] don't really know what they're looking for; they just know they want something better than the generic supermarket stuff.
Los Angeles, CA (PRWEB) December 12, 2014
For holiday shoppers looking to add a little candy to their festivities, there are several online retailers to choose from. But only one of these carries bacon-flavored candy canes, gingerbread Peeps, eggnog saltwater taffy, and chocolate liquor bottles, along with seasonal staples like candy cane Hershey's kisses and Christmas M&M's. The place is CandyWarehouse.com, and their expansive inventory is part of an ambitious strategy to give shoppers the widest selection available, with far more options than even the most copious confectionery specialty store.
The candy experts have been adding to their collection of sweets since they first began shipping candy in 1998, but now they're ramping up more than ever for what will be one of their biggest sales years to date. Dr. Evans Boney, Director of Marketing, says the new inventory is only part of their yuletide marketing strategy, although most of the praise he receives from customers does revolve around the variety of goods his company offers. That's gratifying to hear, especially since Boney and his team have gone to such great lengths to present their thousands of items in straightforward categories sorted on their website by color, type, brand, occasion, and flavor.
"We want our customers to be able to find all of the candy on their holiday shopping list in one place, but first we have to present them with the right goods. Many of them don't really know what they're looking for; they just know they want something better than the generic supermarket stuff. For us, that means presenting a huge number of unique alternatives in a way that is intuitive and inviting."
Along the towering steel shelves of their temperature-controlled warehouse in El Segundo, California there are more Christmas, Hanukkah, and winter-themed items than the candy retailer has carried in its 16 year history. Boney says they have about 7,000 products, and that number is growing every day, but all of their holiday specialty items—over 800 total—have been available on the website for weeks now, shipping to customers across the country who were intent on wrapping up their shopping in time to actually enjoy the season.
As the holidays near and shipping deadlines approach, customers will have hundreds of seasonal items to choose from, but they need to plan ahead to receive everything in time for their celebrations. Peilin Pratt, Vice President of the company, says that's actually a good thing.
"We want to help customers avoid that last-minute rush to the store, especially when they're not likely to find what they're looking for there. It's important to us that they find the kind of candy they'll be excited to share. Everything we're doing now is about delivering that experience."
CandyWarehouse has already garnered a devoted following in the online community. Newcomers stumble onto their website every day, scanning their tantalizing selection of seasonal sweets with a mixture of awe and appetence.