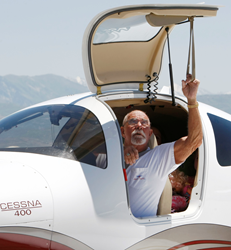 Los Angeles, California (PRWEB) December 15, 2014
The Endeavor Awards 2015 Nominations Are Open!
Nominations for the Endeavor Awards are now open. The deadline to receive nominations is January 31, 2015 midnight PST. The Endeavor Awards Ceremony is the premiere celebration presented by Angel Flight West to honor and support volunteer pilots and the great humanitarian organizations that arrange their gifts of flight in service to individuals and communities everywhere. Each year, the Endeavor Awards are the centerpiece of a national campaign to raise awareness of what aviation makes possible through the generosity of volunteer pilots donating flights to provide access to health care, save lives, assist Veterans, rescue animals, map environmental data, assist in disaster relief and contribute to the public good in many ways.
The Endeavor Award recognizes individual volunteer pilots whose service and actions go beyond expectations and distinguish the nominee for their dedication and generosity. Nominations must be made through the online nomination form on the Endeavor Awards website http://www.endeavorawards.org.
The Endeavor Awards were established in 2014 by Angel Flight West, a volunteer pilot organization serving the 13 western states with approximately 4,000 humanitarian flights annually. Angel Flight West recognized the need for a national platform to increase understanding about the use of aviation for humanitarian purposes, to honor and recruit volunteer pilots and to raise and distribute resources to the organizations supporting and coordinating these donated flights for many purposes across the country and around the world. Only in its second year, the Endeavor Awards have already earned the support of aviators, celebrities and leaders from the aviation industry and health care providers.
###
More information:
Janet Cathcart
310-880-4781
Janet(AT)endeavorawards.org
http://www.endeavorawards.org