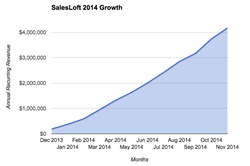 The emergence of the sales development team is the biggest innovation to happen to the sales process over the last decade.
Atlanta, Ga. (PRWEB) December 12, 2014
With more than 25,000 global users, SalesLoft, a technology company helping businesses accelerate appointment setting through prospecting and messaging software, significantly exceeded its 2014 projections with a 2,000 percent increase in revenue. Utilized by more than 700 software and SaaS leaders, including Oracle, Salesforce and Box.com, SalesLoft minimizes the time sales teams need to identify prospects, allowing them to focus on setting appointments and closing deals.
A complete sales development platform, SalesLoft searches through social profiles on the web to find companies the exact prospects they need, and seamlessly integrates new leads into existing sales development processes. In September, SalesLoft extended its software suite with the launch of Cadence. The application allows teams to create their own unique processes for sales development emails, phone calls and other communications with software that connects directly to a company's existing mail server – making communications more personal and eliminating the need for third-party transactional tools.
"Extending our SalesLoft integration to include Cadence has been a game-changer for the productivity of our outbound sales team," said Devon Wijesinghe, CEO of InsightPool. "We've increased our qualified leads dramatically using SalesLoft's Prospector tool to enhance our lists, and now we're converting more of those leads with the custom communication rhythm we've developed using Cadence."
Named one of Atlanta's Best Places to Work by the Atlanta Business Chronicle, the Atlanta Tech Village-based company has seen a 700 percent growth in employees since the beginning of the year, with several open positions available on its website.
The Best Places to Work Award was one of many the SalesLoft team received in 2014. Co-founder Kyle Porter was named one of the 30 Top Social Sales Influencers as well as the Atlanta Business Chronicle's Early-Stage Entrepreneur of the Year. Meanwhile, marketing director Tami McQueen was named B2B Marketing Innovator of the Year by the Technology Association of Georgia.
"2014 was a huge year, but we're only just getting started," said Kyle Porter, co-founder and CEO, SalesLoft. "The emergence of the sales development team is the biggest innovation to happen to the sales process over the last decade. SalesLoft delivers the only application that guides companies through the planning, implementation and execution process for sales development."
To kick off 2015, SalesLoft will host its annual Rainmaker Conference on January 13-14 in Atlanta, where hundreds of the nation's top sales and business development executives will discuss the future of the industry. Learn more at http://www.sdrsummit.com.
###
About SalesLoft
SalesLoft offers its clients the simplest way on the internet to build accurate lists of prospects and convert them to qualified appointments and demonstrations. SalesLoft's Prospector product automates list building through the power of social networks and syncs contact information directly to existing CRM systems, while the Cadence application allows sales development teams to build and execute their own unique processes of sales development emails, phone calls and social drips.
Learn more at salesloft.com or by following SalesLoft on Twitter and LinkedIn.