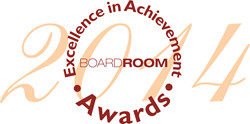 For the past seven years we have had the benefit of partnering with so many great leaders, creative minds and esteemed organizations within the private club industry – we are truly thankful and proud. - Shannon Herschbach, President of Pipeline Marketing
Manhattan Beach, California (PRWEB) December 15, 2014
The BoardRoom magazine announced today that Pipeline Marketing Group has won the private club industry's most prestigious honor for its business partners – the 16th annual "Excellence in Achievement" award recognizing them as "2014 Membership Marketing Firm of the Year".
"We are honored to be recognized for this prestigious award by BoardRoom magazine and their private club industry peers," said Pipeline Marketing Group President, Shannon Herschbach. "For the past seven years we have had the benefit of partnering with so many great leaders, creative minds and esteemed organizations within the private club industry – we are truly thankful and proud."
Earlier this year, Ms. Herschbach was also recognized personally by BoardRoom magazine as one of the most influential women in the club industry.
Winners, each year, are selected by BoardRoom magazine's industry peers for overall excellence in their respective fields, achievements, innovation, vision for future growth and continued impact on private club operations. "Each of the recipients of the BoardRoom magazine "Excellence in Achievement" awards are clearly leaders in their respective industries," said John Fornaro, publisher of the BoardRoom magazine.
The BoardRoom magazine is endorsed by the Club Managers Association of America (CMAA) and the official publication for the Association of Private Club Directors (APCD) and the Distinguished Clubs of the World.
Pipeline Marketing Group is a firm specializing in sales and marketing solutions with a focus on lifestyle-related industries. Based in Los Angeles, California, Pipeline's clients include private clubs and communities, golf courses, ski and mountain resorts, yacht clubs, special event venues and attractions, social clubs, restaurants, wineries, senior living communities, health and wellness facilities, and additional lifestyle properties.
For more information about the BoardRoom magazine 2014 "Excellence in Achievement" awards, please contact the editorial department at (949) 365-6966.
Additional information about Pipeline Marketing Group can be found on their website, via email at info(at)pipeline-inc(dot)com, or by contacting them directly at (888) 360-7473.