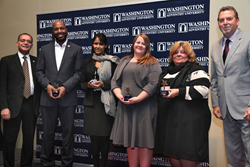 With so many talented and hard-working faculty and staff here at Washington Adventist University, it's nice to be able to offer appreciation for all they do.
Takoma Park, Md. (PRWEB) December 12, 2014
The Washington Adventist University Board of Trustees sponsored an employee banquet recently for the university's faculty and staff, recognizing them for their professional accomplishments and service, and expressing appreciation for their demonstrated dedication and commitment to the mission of the university.
During the event, six faculty members were honored for their professional accomplishments, four received peer-nominated and peer-voted awards, 26 others received service awards and four retirees were recognized for their years of service.
The banquet was held at the North Bethesda Marriott Hotel and Conference Center on November 19, and it began with a welcome from Chairman of the WAU Board of Trustees Dave Weigley who also serves as President of the Columbia Union Conference of the Seventh-day Adventist Church, and WAU President Weymouth Spence. Comedian Jonathan Slocumb provided the entertainment for the evening.
"It was a wonderful occasion for our WAU Board of Trustees and administrators to express appreciation for the continued excellence we're seeing at our university through its faculty, staff, and all who have dedicated so many years to our educational ministry," said WAU Board Chair Weigley. "We're delighted at how they are carrying on the legacy of preparing students for service by engaging minds and transforming lives."
"With so many talented and hard-working faculty and staff here at Washington Adventist University, it's nice to be able to offer appreciation for all they do," said President Spence, Ed.D., R.T. "Those who received special awards for their contributions and professional accomplishments are role models for our students and other staff, and they are deserving of all the recognition and encouragement we can offer."
Faculty members recognized for their professional accomplishments included Melissa Henley, MSW, Department of Social Work; Ralph Johnson, Ph.D., dean of the Betty Howard Center for Student Success; Mikhail Kulakov, D.Phil., Department of Religion; Grant Leitma, Ph.D., chair of the Department of Psychology; Kristin Mitas, program director for the Department of Medical Imaging; and Melinda Villanueva, Ph.D., Department of Biology.
The peer-nominated award recipients included Wanda Colon Canales, director of Admissions for dedication to teamwork; Jean Innocent, Assistant Dean of Men for modelling spiritual leadership; Ellie Barker, Director of Alumni Relations for passion for the work and for WAU; and Becky Barker, First Year Experience coordinator for outstanding service to students.
Service awards were presented to Acquisitions Technician Deborah Szasz and Assistant Registrar Anne Saggurthi for their 35 years at the university; Telecommunications Technician Welton Ingram was recognized for 30 years; Biology Professor Glenn Bennett for 20 years; Associate Dean of Student Success Fitzroy Thomas for 15 years; Assistant Dean of the School of Arts & Sciences John Gavin for 10 years; and recognized for five years of service were WGTS Senior Chaplain and Community Relations Manager Terry Johnsson, Assistant Professor of Music Daniel Lau, Department of Education Program Manager for Professional Development Schools Jamesa Lewis, and Department of Education Office Secretary and Data Manager Dorrett McFarlane.
New employees who completed their first year of service were also recognized. They included SGPS Program Coordinator Carol Cogen, Admissions Counselor Desiree Dixon, Nursing Assistant Professor Sonia Donaldson, Assistant Dean of Men Jean Innocent, Dean of the Betty Howard Center for Student Success Ralph Johnson, Chaplain for Ministries Regina Johnson, Financial Aid Advisor Joel Mercado, SGPS Program Coordinator Jessica Mihos, Junior Systems Administrator Joshua Simbolon, Maintenance Technician David Smith, Nursing Education Clinical Coordinator Windy Spence-Graham, Nursing Assistant Professor Khadene Taffe, Chaplain for Missions Kaniel Williams, Assistant Professor of Health, Wellness & Physical Education Vashon Williams, WGTS Morning Show Host Jerry Woods and Interim Registrar Lynn Zabaleta.
Retirees who were bid farewell at the banquet and thanked for their many years of service included: Maintenance Technician Gary Shewell; Vice President for Student Life Jean Warden; Library Director Lee Wisel; and Senior Programmer Roger Wright.