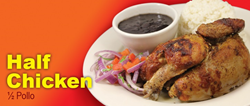 (PRWEB) December 13, 2014
In 1993, La Granja Restaurants opened their first location in Aruba, offering fresh Peruvian rotisserie chicken, and many other authentic Peruvian dishes to the island community. La Granja realized overwhelming success in Aruba, and shortly after, the decision was made to expand in the United States, with the first La Granja restaurant debuting in Florida. Since then, over 35 additional locations have opened for business, including the newest location, La Granja Hialeah Gardens. Known for its versatile and affordable menu, it's sure to be a welcome addition to this culturally rich area in South Florida. La Granja is a family owned business that prides itself on its strong devotion to Peruvian culture, which means honoring the family and time spent together, and sharing meals at the table. In today's fast-paced family lifestyle, wouldn't it be nice to slow down a little? With quality family time becoming a lost art, La Granja restaurants provide high quality food in a family friendly setting, at a price every family can afford. Sit, eat, enjoy.
La Granja Hialeah Gardens: A Fresh, Family Friendly, And Totally Unique Peruvian Food Experience Served up Daily.
La Granja Restaurants all over Florida are well known for their signature Peruvian dish, Pollo a la Brasa, which is a delectable rotisserie chicken specialty, seasoned to perfection - in the way that only La Granja knows how. In addition to their famous rotisserie chicken, La Granja offers an expansive menu, with plenty of family style options to please even the pickiest of eaters. La Granja serves a variety of authentic, slow cooked Peruvian dishes. Each dish on their menu is prepared fresh daily using local ingredients. With the quality of food, attention to detail, and service at La Granja, patrons will find themselves visiting their new La Granja Hialeah Gardens location often.
La Granja Hialeah Gardens: Enjoy a Quality Peruvian Menu at an Affordable Price. Bring The Family and Dine Together, Without Breaking The Bank.
The high cost of dining out these days can be off-putting, especially when a family is on a budget. Dollar menus, and "value deals," often come from fast food restaurants that provide cheap, low quality, food. At La Granja, when it comes to food quality and feeding one's family, their philosophy is that families should never have to sacrifice flavorful and nutritious meals because they are unaffordable. At La Granja Hialeah Gardens, their abundant menu offers generous family style platters that include Pollo a la Brasa, as well as other delectable chicken specialties, grilled beef, succulent pork, and fresh seafood, with savory Peruvian side dishes to choose from, all at reasonable prices. Looking for lunch options? La Granja Hialeah Gardens' lunch specials start at under $5.00, for a generous portion of rice, beans, and Pollo a la Brasa. La Granja Hialeah Gardens is not only family friendly, but also budget friendly, a welcome combination in any neighborhood!
Visit La Granja Hialeah Gardens, located at: 11800 Hialeah Gardens Blvd, Hialeah Gardens, FL 33018, or visit: http://www.lagranjarestaurants.com/locations.php for a nearest location.