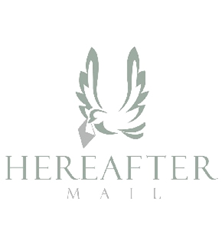 A will for your estate; Hereafter Mail for the people in your life.
Forest Hill, MD (PRWEB) December 17, 2014
Hereafter Mail, launched in November, is a privately owned professional service firm that enables clients to write letters and cards (not e-mail), have the mail securely stored, and then delivered after the client's death. The client can choose to have each piece of mail sent immediately after their death, or they can specify delivery on birthdays, holidays, anniversaries, or other meaningful dates up to 10 years in the future. Clients are provided with a parcel in which they have the option of including as much or as little mail as they wish, for one fixed price.
"The client's ability to specify mail delivery dates in the future is a vital part of our value proposition", says F.W. (Chip) Hough, founder of Hereafter Mail. "As people near the end of their own lives, they mourn the idea of no longer being part of the lives of their families and friends. Sending mail that will be delivered after a person's death is dramatic. It makes an incredibly powerful statement that can extend their presence in the lives of others for years."
People care a great deal about how others remember them. Many do not want to be remembered only as they were while approaching death. Sending Hereafter Mail empowers clients to shape their own legacy by expressing their final thoughts in an unforgettable way, while leaving a tangible remembrance in the form of their final cards and letters.
For an elderly or seriously ill person, there is cathartic value in unburdening oneself by writing letters for posthumous delivery. These people often grapple with increasing feelings of isolation as their physical capabilities diminish. The process of creating Hereafter Mail stimulates a sense of connecting with others. It provides peace of mind and emotional closure that might not otherwise be possible.
Hereafter Mail's operating model is carefully designed to ensure responsive and caring customer service, secure storage of client mail, and the assurance of mail delivery according to the client's instructions.
"Our business is ultimately about trust," Hough explains. "Our clients must have total confidence that their mail will be handled exactly as they specified. They could leave their mail with a family member or lawyer, but it could easily be lost, forgotten, discarded, mailed prematurely, read by the mail caretaker, and so on. These folks trust us with something extremely personal, private, and important to them. We make absolutely certain that trust is well placed."
Family members and caregivers for the elderly and terminally ill are expected to form the core customer base for Hereafter Mail, as this becomes increasingly recognized as a viable means both of facilitating patient well-being and providing healthy closure for their friends and loved ones.