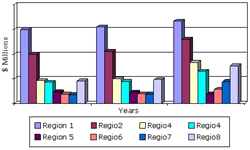 Global Market for Medical Aesthetic Devices to Reach $6.2 Billion by 2019
Wellesley, Mass. (PRWEB) December 12, 2014
BCC Research (http://www.bccresearch.com) reveals that the growing expansion of the middle classes in developing economies, shifts in cultural outlooks for developed economies, and regulatory actions in the U.S. have led to a rapidly changing global market for medical aesthetic devices. Due to the expansion of its middle-class population, India will experience the highest compound annual growth rate (CAGR) during the forecast period, with 18.3%. Injectable dermal fillers, surging at a 32% CAGR, will overtake breast implants as India's largest market segment by 2019.
The U.S. will retain its position as the largest market for aesthetic medical devices, reaching $1.7 billion in 2019. Botulinum-based neuromodulators will continue to make up the largest segment of the U.S. market; they will also comprise the U.S. market's highest-growth segment. Its share of the global market, however, will decrease from 33% in 2014 to 27% in 2019.
"In the U.S. and elsewhere, changes in the health insurance industry over the past decade have resulted in the reduction or elimination of coverage for cosmetic procedures," says BCC Research analyst J. Richard Rahn. "People who desire cosmetic improvement may therefore seek less-expensive treatments, thus favoring the less-invasive procedures over surgery."
A long-term trend, both in the U.S. and globally, is the moving away from surgical procedures and toward those that are followed by minimal downtime for the patient. An additional and growing concern is the risk of infection following an invasive medical procedure.
Medical Aesthetic Devices: Technologies and Global Markets examines the global market for materials and devices used in the delivery of aesthetic treatments. Trends in the markets are identified and used in conjunction with past market behavior to forecast future revenues and CAGRs in current U.S. dollars from 2014 to 2019.
Editors and reporters who wish to speak with the analyst should contact Steven Cumming at steven(dot)cumming(at)bccresearch(dot)com.
About BCC Research
BCC Research publishes market research reports that make organizations worldwide more profitable with intelligence that drives smart business decisions. These reports cover today's major industrial and technology sectors, including emerging markets. For more than 40 years we've helped customers identify new market opportunities with accurate and reliable data and insight, including market sizing, forecasting, industry overviews, and identification of significant trends and key market participants. We partner with analysts who are experts in specific areas of industry and technology, providing unbiased measurements and assessments of global markets. Recently selected as the world's greatest market research company, BCC Research is a unit of Eli Global, LLC. Visit our website at http://www.bccresearch.com. Contact us: (+1) 781-489-7301 (U.S. Eastern time), or email information(at)bccresearch(dot)com.
BCC Research reports cover markets that hold significant opportunities because of their growth and innovation. The information is used by organizations worldwide to inform strategic business decisions and to support the development of strong business cases and product commercialization scenarios with:

Regional and global market sizing and five-year growth projections
Analysis of key industry trends and opportunities
Identification and profiles of the market's key participants