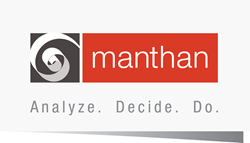 What's needed today are proven, cloud-based solutions that are light on technology, intuitive and accessible, and literally can be switched on right now - Atul Jalan, CEO Manthan
Phoneix, AZ (PRWEB) December 15, 2014
Manthan, the global leader in analytics solutions for retailers and CPG manufacturers, today announced that retail and CPG organizations can finally "Switch On" context relevant personalization, analytics-driven solutions to connect with customers and shoppers and drive incremental growth opportunities, faster. Manthan made the announcement in advance of the National Retail Federation (NRF) Convention & Expo that will be held January 11-14, 2015 at New York City's Jacob K. Javits Convention Center. Manthan's booth number at the NRF Convention & Expo will be #3463.
"This really is the moment of truth for retailers and their CPG supplier partners," said Atul Jalan, CEO of Manthan. "Traffic, sales and growth have been at best anemic for retailers and CPG manufacturers in recent years. What's needed now is a total rethinking of customer and shopper marketing strategies and tactics. But that does not mean adopting overly complex technology and difficult to use and implement platforms that lack a clear business purpose and require 'rocket scientists' to operate."
Jalan continued: "What's needed today are proven, cloud-based solutions that are light on technology, intuitive and accessible, and literally can be switched on right now by anyone across the retail and CPG organizational landscape. Today's breakthrough analytics solutions are simple, powerful and complete, created from pre-built and role-based analytics assets that solve business problems right out of the box. They are designed to function at any stage of the analytics lifecycle and make an immediate, positive difference. Bottom-line, the imperative must be to drive robust new growth for retailers and CPG alike."
An example of these powerful new cloud-based analytics solutions is Customer360 that Manthan will be showcasing at the 2015 NRF conference. Customer360 is a customer analytics solution that enables retail marketers to create and execute context relevant personalized marketing strategies and programs based on an omni-channel understanding of customer behaviors and preferences. The solution uses predictive analytics to anticipate customer responses before engaging with them, dramatically increasing the odds for relevance and positive responses.
Customer360 is also remarkably easy to use and adopt for retailers and CPG companies who can start immediately to execute relevant, personalized marketing strategies that strengthen customer engagement and loyalty. Earlier this year, a major retail organization with six million customers adopted Customer360 to improve their customer marketing performance. Specifically, the retailer deployed Manthan's analytics solution to better understand customer purchasing behaviors and preferences, and create relevant, affinity based promotions. Using Customer360's to personalize customer marketing, the retailer was able to drive 8% campaign lift.
Using Analytics and Big Data to Create a Single 'Point of Truth'
During the NRF event in NYC, Manthan will be launching another powerful and easy-to-use solution designed to help retailers and CPG manufacturers harness big data to better connect with and engage today's demanding customers and shoppers. Demand Signal Management(DSM) from Manthan empowers retail and CPG organizations to win today's fiercely competitive demand battle and ignite profitable growth by creating real-time, actionable insights.
DSM from Manthan is a fully integrated analytics system that creates a single "point-of-truth" about the customer and shopper. As the most complete DSM solution available, Manthan DSM collects and synthesizes information from multiple, disparate sources – including unstructured data – to anticipate demand and create a powerful integrated analytics platform that can drive cross-organizational actionable insights that improve and accelerate decision making. The multiple data sources that Manthan's cloud-based DSM solution manages include information from retail customers, distributors, market research, internal data, social media and uniquely, shopper data.
Other analytics and big data products and solutions that Manthan will be showcasing at the upcoming NRF 2015 National Convention and Expo, include:

Merchandise Analytics – Takes the uncertainty out of daily decisions with analytics-driven recommendations for assortment, price tuning, inventory management, and store performance.
E-commerce Analytics – Delivers unmatched insights into digital channel performance, enabling retailers to provide the right offer at the right place at the right time.
Supplier Analytics & Collaboration – Enables retailers to build positive and productive relationships with vendors by providing broad visibility into the complete procure-to-pay lifecycle, including merchandising and promotions planning, purchase order management and invoice reconciliation, and vendor score-carding.
About Manthan
Manthan serves as the Chief Analytics Officer for global consumer industries. Manthan's comprehensive portfolio of analytics products and services enable retailers and their supplier partners to understand and activate the customer's path-to-purchase journey. Architected with deep industry expertise, Manthan's solutions combine advanced predictive analytics, actionable insights and unmatched customer knowledge to help retailers identify and drive incremental growth opportunities. Manthan has provided its business-building analytics solutions to retail and CPG organizations across 21 countries. Visit Manthan at http://www.manthan.com.