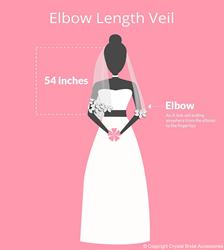 The Crystal Bridal Accessories website offers plenty of useful, expert resources. We want to inform and inspire brides with plenty of expert tips and ideas to help them to make the perfect choice for their accessories
(PRWEB UK) 17 December 2014
Although many brides traditionally purchase their wedding veil at the same time as trying and buying the wedding dress….more brides are turning to faster, online solutions for purchasing their wedding accessories. The comeback of the wedding veil over the past few years has seen brides researching the different veil options and buying the veil from accessory specialists to ensure they are creating the perfect bridal look they have always imagined.
With over nine years experience in bridal accessories, Crystal Bridal is always expanding their online resources for brides and the veil guides are the most recent addition to their advice portfolio. Wedding veils are available in various options including traditional, Mantilla, Bouffant or Juliet Cap and the different length options make the choice of buying the right veil even more difficult. Brides have to determine which combination of veil style and length they need to create their chosen bridal look and at the same time need to consider their hairstyle and wedding dress too. The overall shopping experience is quite complicated especially with the absence of the dress which can sometimes take months, even years to arrive! The new Veil Buying Guide and Veil Size Guide offer professional advice and accurate information about the different length choices, styles and which type of veil is likely to suit a particular bridal look.
"The Crystal Bridal Accessories website offers plenty of useful, expert resources. We want to inform and inspire brides with plenty of expert tips and ideas to help them to make the perfect choice for their accessories," explains Amy Karim, owner of Crystal Bridal Accessories. "We always aim to provide as much inspiration and advice as possible so that brides can choose their accessories quickly, easily and with the minimum of fuss! These veil advice guides have been specifically designed to make the veil buying experience easier and present the options to brides in very simple terms. The bespoke images provide a clear, handy guide to the veil lengths and types and the guide also shows examples of which brand of veils would be better to create a specific look."
"At Crystal Bridal Accessories, we have the knowledge and expertise of all the brands. With this overall view and experience of selling specialist accessories, we believe our advice will really help brides to choose the perfect wedding veil for them!" adds Amy.
The Veil guides can be viewed on the Crystal Bridal Accessories website along with many other useful resources including a Get The Look page, Wedding Trends ideas for 2015 and a handy Shoe Finder.
END
About Crystal Bridal
Crystal Bridal Accessories is an innovative business specialising in accessories for weddings, parties, balls, proms and special occasions. The online boutique offers the entire range of wedding shoes by Charlotte Mills, Paradox London, Benjamin Adams, Rainbow Club, Harriet Wilde and Love Art Wear Art and quality wedding hair accessories by Louis Mariette, Halo and Co, Ivory and Co, and other brands made with genuine Swarovski crystals. Crystal Bridal Accessories also stock a range of wedding gloves, Joyce Jackson wedding veils, bridal sashes and Lily Bella bird cage veils. Crystal Bridal Accessories is for the bride, bridesmaids, mother-of-the bride and for anyone who loves shoes, jewellery and handbags.
Crystal Bridal Accessories has been nominated for finalist for the British Wedding Awards 2015, Nominee for the Wedding Industry Awards 2014, Perfect Wedding Magazine 2013 and 2014 and Wedding Ideas Magazine 2013 and 2014. The company was Highly Commended by Wedding Ideas Awards 2012 for contribution to Bridal Accessories.
Brides can shop online or visit the showroom in Meadowhall, Sheffield serving brides across Yorkshire. For further information or to request high resolution product images, please email us.