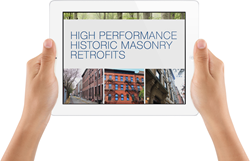 475 is trying to steer the tanker ship of US construction in a greener direction.
New York, NY (PRWEB) December 12, 2014
Prevailing thought for green building specialists is that "the greenest building is the one already standing," a statement first attributed to architect and Sustainable Design Director, Carl Elefante. Yet, existing historic masonry buildings typically struggle to meet the demands of today's occupants for comfort and the need to reduce power consumption to mitigate climate change.
With the announcement of a new e-book release online this week, Brooklyn-based 475 High Performance Building Supply is offering building professionals a new tool to assist in making existing masonry buildings address these shortcomings, and transforming them into performance leaders.
The e-book 'High Performance Historic Masonry Retrofits' weaves the core concepts of rigorously energy-focused Passive House building standards (such as airtightness and continuous insulation) into the details of masonry renovation. Using two- and three-dimensional sketches, along with real world photos and advice, the e-book provides a guide to making these structures more robust, comfortable, and energy efficient; while also respecting the need for preservation and for maintaining the historic character of these buildings.
The e-book is accompanied by a downloadable CAD drawing file containing all the details illustrated in the e-book, allowing professionals to directly copy and customize them to their particular project needs. 475 Co-Founder, Ken Levenson, an architect by trade said, "It's core to our business to spread information that will make a difference. Much more than a supply house, 475 is trying to steer the tanker ship of US construction in a greener direction. We can make our contribution by behaving like a business in the information age should: by making valuable and transformative information free."
The company plans for 'High Performance Historic Masonry Retrofits' to be the first in a series of construction detail e-books covering a variety of construction types. Each release will rewrite conventional building details to accommodate for super-insulated, air sealed, and foam-free building. Eliminating the use of fossil fuel based components such as spray foam and styrofoam from construction is another goal for 475, in an effort to make the greenest buildings possible.
'High Performance Historic Masonry Retrofits' can be downloaded from foursevenfive.com. Hardcopies are available for pre-order with release set for early 2015.