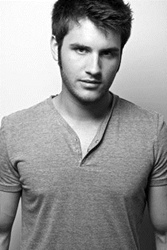 Live honorably, love boldly, and in everything, be courageous.
Atlanta, Ga (PRWEB) December 12, 2014
"What the devil means for harm....God turns into something beautiful. God gave Brandon healing and his music. God not only healed him but gave him such high intellect, wisdom and knowledge." says Karen Jenkins, mother of rising country music artist Brandon Chase. Be sure to watch Brandon and his parents Bryan and Karen Jenkins share two very impactful testimonies on Christian Broadcasting Network's, The 700 Club. The two stories aired on ABC Family Thursday at 9:30 a.m. EST, and can currently be seen on CBN's website.
Brandon Chase is an up-and-coming country music artist, who went from Actors, Models and Talent for Christ's SHINE Conference, to Team Blake on season 5 of The Voice.
The first CBN story, "This Rising Country Star Almost Died In Infancy," reflects on God's divine healing in the life of Bryan and Karen's son, Brandon. Several days after his (normal) birth, Brandon became unresponsive. The doctors were unsure what to do, but Karen never lost faith, and Brandon was healed. "My desire is to bring hope to other parents who may be struggling with illnesses in their children. It's important to realize in the mist of your biggest battle of fighting for their life that God is with you. God can heal and restore 100 percent," says Karen.
"How Brandon Chase Went From A Love Of Baseball To Turning Chairs On The Voice" emphasizes the importance of following God's plan rather than our own. Recently featured as Seventeen Magazine's "Cutie of the Week," Brandon completed his masters certificate in songwriting from Berklee College of Music at the age of 17. Brandon's single, "One" (featured on iTunes "New and Noteworthy"), is currently playing on Country Radio nationwide and is available for download on all digital platforms. "I'm working on my first full length album and plan to follow the release of the album with a tour," Brandon says about his upcoming plans. "A few words I've had on my heart lately are to; live honorably, love boldly, and in everything, be courageous."
Brandon attended the AMTC International SHINE Conference during the Summer of 2011. For over 32 years, Actors, Models and Talent for Christ is a ministry that provides aspiring talent with professional direction, industry connections and spiritual preparation so they can be a light for Christ in the entertainment industry.
To learn more about Brandon Chase, check out http://www.brandonchasemusic.com.
For more information about the mission and movement of Actors, Models and Talent for Christ, please visit http://www.amtcworld.org.