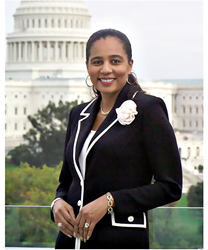 WASHINGTON (PRWEB) December 12, 2014
On December 12, the Congressional Black Caucus Foundation, Incorporated (CBCF), president and CEO, A. Shuanise Washington will deliver the keynote address at Florida Agricultural and Mechanical University's (FAMU) fall commencement in Tallahassee, Fla. During FAMU's fall commencement, Washington will receive the esteemed President's Award, which is bestowed upon an individual who has contributed their time and talents to impact students at the University.
"I feel privileged and grateful to share in this special day," stated A. Shuanise Washington, president and CEO, of the CBCF. "These students have achieved a life-altering accomplishment and will receive the first reward in their professional life: a college education. It is an experience—a milestone—that positions them among a network of global leaders."
"We are honored to have Mrs. Washington serve as our commencement speaker," said President Elmira Mangum, Ph.D. "Her outstanding efforts in advocacy, research, education, civic engagement, and community relations serve as a great model of excellence for our graduates."
Ms. Washington is considered to be one of the top women CEO's in the Washington, D.C. area. In July, she was awarded the prestigious 2014 Brava! Award, by SmartCEO for her dedication to local philanthropy, support of rising leaders, and positioning CBCF on a path towards growth.
This spring, she was recognized by Delta Sigma Theta Sorority, Inc. for her efforts to eliminate disparities in science, technology, engineering and math (STEM) education and employment in the African-American community.
Ms. Washington joins the ranks of notable leaders to give a commencement address at FAMU. Previous speakers include world-renown poet Nikki Giovanni; Essence editor-at-large, Mikki Taylor; minister, political, civil rights and social justice activist, Reverend Al Sharpton; Emmy award-winning journalist Byron Pitts and Microsoft Chairman, John W. Thompson.
"I hope to share thoughts about how they can work within their their global networks to advance our nation's progress," stated Washington. "Leadership and service are inextricably linked. Success rests in service to others. Success can be measured in many ways, but it is most impactful when you contribute to the greater good—to the betterment of and in service of our world community."
More than 700 students will receive degrees during the graduation ceremony. The ceremony will take place at 6:00 p.m. at the Alfred L. Lawson, Jr. Multipurpose Center and Teaching Gymnasium.