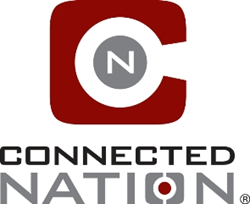 Washington, DC (PRWEB) December 12, 2014
Connected Nation applauds yesterday's decision by the Federal Communications Commission (FCC) to increase the National Broadband Availability Target from 4 Mbps download/ 1 Mbps upload to 10 Mbps download/ 1 Mbps upload. The new broadband target will be used by the FCC in assessing the availability of robust broadband service to all Americans and will set new goals for the FCC's Connect America Fund broadband network subsidy program.
"Connected Nation has been mapping and assessing the growth of broadband needs for over ten years, and through this groundbreaking work, we see that communities, consumers, and businesses are requiring ever more robust broadband speeds and performance," said Connected Nation President Tom Ferree. "Virtually all of the applications needed today – for education, economic development, and telemedicine – demand ever-higher speeds. Just like dial-up hasn't cut it for a decade, first-generation broadband won't cut it for these critical applications."
In 2010, the FCC's National Broadband Plan established a National Broadband Availability Target of 4 Mbps downstream/1 Mbps upstream to all consumers and small businesses nationwide. Prior to 2010, the FCC's definition of "broadband" had been 200 kbps symmetrical (both download and upload). The National Broadband Plan recommended that the FCC "should review and reset this target for public investment every four years." Yesterday, the FCC increased the speed target to 10 Mbps down/1 Mbps up, noting that consumer broadband usage patterns and the proliferation of Internet users and connected devices make the new speed target necessary.
Connected Nation maps and validates broadband service availability in nine states and the Territory of Puerto Rico as part of the U.S. Department of Commerce, National Telecommunications and Information Administration State Broadband Initiative grant program. The most recent data (as of July 2014) shows that in these jurisdictions, over 11% of households do not have access to fixed broadband service of 10 Mbps download/1.5 Mbps upload. Approximately one in four households in Alaska and Puerto Rico do not have this level of access.
To learn more, download a chart of these data.
Further information on broadband availability in these jurisdictions is available on this web tool on the Connected Nation website.
Connected Nation has also put out a Policy Brief that summarizes this increase in the broadband speed target and describes its impact on various FCC programs, including the Connect America Fund, which subsidizes broadband network investment in rural areas of the United States. That and other Policy Briefs are available on the Connected Nation website at http://www.connectednation.org/data-center-policy.
# # #
About Connected Nation: Connected Nation is a leading technology organization committed to bringing affordable high-speed Internet and broadband-enabled resources to all Americans. Connected Nation effectively raises the awareness of the value of broadband and related technologies by developing coalitions of influencers and enablers for improving technology access, adoption, and use. Connected Nation works with consumers, community leaders, states, and technology providers and foundations, including the Bill & Melinda Gates Foundation, to develop and implement technology expansion programs with core competencies centered on a mission to improve digital inclusion for people and places previously underserved or overlooked. For more information, please visit: http://www.connectednation.org/.