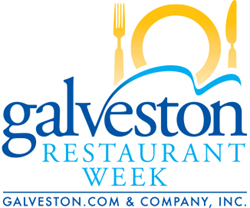 #CelebrateDelicious This January on beautiful, tropical Galveston Island!
Galveston, TX (PRWEB) December 13, 2014
The fourth annual Galveston.com & Company Galveston Restaurant Week - Saturday, January 10th to Saturday, January 24th, 2015 - brings Galveston Island's vibrant food scene to life for two full weeks of delicious dining. The event will showcase the freshest ingredients, most flavorful dishes and tastiest culinary gems that Galveston has to offer, as well as benefit the Galveston County Food Bank.
This year's sponsors include Sysco, OpenTable, The Galveston Island Convention & Visitors Bureau, The Galveston County Daily News, GalvestonCruises.com, and CanvasPop. Home of the finest Gulf Coast seafood and some of Texas's most delectable restaurants, Galveston Island proudly welcomes visitors to Galveston Restaurant Week, where patrons can choose from Galveston's most delightful and delicious eateries for prix-fixe lunch and/or dinner menus - in attractive price points of $10, $15, $20, $25, $30, $35, and $40, depending on the restaurant.
Last year's event featured a vast array of Galveston Island eateries, and resulted in a very welcome boost during the Island's slower season of winter. Thirty-seven restaurants to date have committed to the 2015 event.
Giving Back to the Community
Solving the problem of hunger in Galveston County is not just a matter of getting more food to the needy. It's a matter of getting more food to the organizations that serve the needy. And that's how Galveston Restaurant Week patrons can help.
This year, Galveston Restaurant Week is thrilled to host a months-long Food Drive, running now thru the end of Restaurant Week, January 24, 2015. The public is encouraged to drop off non-perishable, un-used food and hygiene products to the official Food Drive Headquarters at Galveston.com & Company, 523 24th Street, Galveston, Texas. Donations are accepted Monday thru Friday, 8:30am - 6pm, excluding holidays.
The public is also encouraged to donate to the Galveston County Food Bank financially by mobile text. Simply text "Hunger" to 33733. Those who choose to donate will receive a confirmation text, with a link to a secure, mobile donation form. Please note: 100% of donations (minus credit card fees) will be given to the Galveston County Food Bank.
Eat, Click, & Share
One lucky Instagrammer will win a CRUISE GIVEAWAY FOR 2, for capturing "Best Instagram" in the Galveston Restaurant Week #CelebrateDelicious Photo Contest.
Visitors to GalvestonRestaurantWeek.com are encouraged to post photos to Instagram that best represents what Galveston Island cuisine means to them - and tag them #CelebrateDelicious. Entries may range from photos depicting particular restaurants; favorite restaurant entrees, waiters, and chefs; to views of outdoor events, picnics, neighborhoods, and festivals.
Submission deadline is December 14, 2014.
Afterward, a jury will select 20 Finalists and 1 Grand Prize Winner during the judging period. The Grand Prize Winner will be announced - and all Finalists will be spotlighted - January 17, 2015 at a special ArtWalk event at The Grand 1894 Opera House's Edna's Room, held in conjunction with Galveston Restaurant Week. Featured guest will be New York singer-songwriter Clarence Bucaro, and visitors will be offered free food samplings from participating Restaurant Week eateries.
All photos will be displayed online for the public in the Galveston Restaurant Week Social Center.
Restaurant of the Year
Galveston Restaurant Week returns in January, and with it comes the 2nd Annual Restaurant of the Year contest. Continuing thru January 24th, the public is invited to VOTE BY TEXT for favorite participating Island eateries. At the end of the voting period, the restaurant with the most votes will be named GALVESTON RESTAURANT WEEK RESTAURANT OF THE YEAR. Full details at GalvestonRestaurantWeek.com.
Save on "Guys and Dolls" at The Grand
Galveston Restaurant Week is thrilled to serve a delicious deal at The Grand 1894 Opera House! Enjoy special discounted rates for the Broadway classic "Guys and Dolls, " coming to Galveston for two performances January 31st! Visit TheGrand.com or phone toll-free (800)-821-1894, and mention coupon code GALVRW.
Join the Fun
Participating in Galveston Restaurant Week is easy. There are no passes to buy, no coupons to carry, and no cards to punch, only a quick call to the restaurant(s) selected to make reservations; then simply dine out during the period January 10-24, 2015. Reservations are strongly recommended.
The public is invited to experience cuisine that will highlight the fun of dining on Galveston Island. Quite simply, this new culinary tradition promises to "celebrate delicious!" like no other event of the year.
To book Galveston Island lodging during 2015 Restaurant Week, click here, or call the Galveston.com toll-free Lodging Hotline at (888)939-8680.
About Galveston Island
Galveston Island is a historic beach town located on the Gulf of Mexico just 50 miles from Houston. The island is best known as a vacation destination, offering 32 miles of beaches, a variety of family attractions, Texas' premier cruise port and one of the largest and well-preserved concentrations of Victorian architecture in the country. For more information on Galveston Island visit http://www.galveston.com or call 1-888-GAL-ISLE.
About Galveston.com & Company
Galveston.com & Company, Inc. is a destination marketing corporation based in Galveston, Texas. The company specializes in destination portals, as well as online lodging, cruise, parking, and transportation reservations; and event ticketing via its proprietary DestinationNext module.
For more information, contact Galveston.com & Company via phone (409)763-8676.