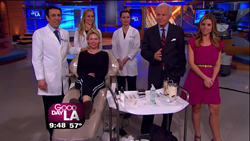 Los Angeles, CA (PRWEB) December 12, 2014
On December 11, 2014, Harper's Bazaar Magazine posted an online article titled "The Ultimate Health Guide to Good Skin" that discussed the link between healthy skin and hormonal imbalances, digestive dysfunction, toxicity, and nutrient deficiencies. The author then provides a list of eleven suggestions for restoring healthy skin. (see: goo.gl/Cr8WmM)
"There is essentially no science or data included in the article, so it's difficult for me to endorse any of the suggestions, even the ones that may seem like common sense," says Dr. Simon Ourian, Medical Director of Epione Beverly Hills.
According to the Harper's Bazaar Magazine article, many skin issues are linked to the digestive system, specifically the production and eradication of "bad" bacteria. The author suggests that the best way to restore skin health is through food and lifestyle choices. These suggestions include avoiding foods that cause digestive discomfort, polyunsaturated fatty acids, high fiber foods, and dairy/sugar. Lifestyle suggestions include eating regular meals, taking one day a week to rest and restore, getting proper sleep, and managing stress.
"I do like the fact that the author suggests that proper nutrition can be found in food rather than supplements," says Dr. Ourian. "Other suggestions such as a colon cleanse or coffee enema I can't endorse."
Dr. Ourian has been a pioneer in laser technology and non-invasive aesthetic procedures including Restylane, Juvéderm, Radiesse, Sculptra, and CoolSculpting. These treatments are used for the correction or reversal of a variety of conditions such as acne, acne scars, skin discoloration, wrinkles, unwanted fat, stretch marks, varicose veins, cellulite, and others. More information about skin care can be found on Epione's website.