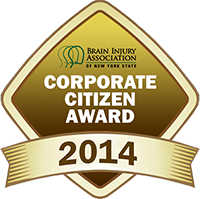 Richmond, VA (PRWEB) December 14, 2014
BrainTrain's president, Dr. Joseph Sandford, was recently honored with the Corporate Citizen of the Year Award at the Brain Injury Association of New York State's 7th annual Journey of Hope Gala in New York City.
Since 1982, the Brain Injury Association of New York State has provided vital services that led to improved outcomes for children and adults with brain injuries and their families. The Association also supports wounded warriors returning from the wars in Iraq and Afghanistan, at least one out of five of whom has sustained a brain injury while serving. Through its extensive education and information resources, training, public education, advocacy, chapters, support groups, and family support services, the Association assures no one has to face the trauma of brain injury alone.
Each year, the Association's Journey of Hope Gala honors those who have made a difference in the lives of individuals with brain injury. The Corporate Citizen Award recognizes remarkable companies whose business has contributed greatly to improving the quality of life and care of individuals living with brain-related injuries and challenges.
Dr. Sandford's Captain's Log MindPower Builder software has resulted in major life improvements for veterans, families, and individuals alike. The comprehensive "mental gym," developmentally based on extensive scientific research and clinical experience, features over 2000 different brain exercises. The software also allows the creation of individualized training plans for a wide variety of cognitive deficits, including learning, memory, or neurologically based disorders. Recently implemented Cloud technology allows clinicians to send their clients home with a license to continue the training, which can be monitored and adjusted accordingly.
The award was presented on October 28, 2014, at the Union League Club of New York. Learn more at: http://bianys.org/gala
About BrainTrain, Inc.
BrainTrain, Inc. was founded in 1989 by Joseph A. Sandford, Ph.D. Before becoming a clinical neuropsychologist, Dr. Sandford was a professional computer programmer, so it was natural for him to perceive how the computer could be an indispensable tool for helping people. Using the computer as a way to improve people's quality of life through cognitive enhancement continues to define BrainTrain's mission.