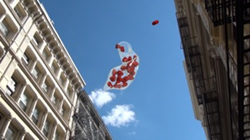 A colorful and fascinating invitation to see the ways we and others understand individual and collective identity.
Düsseldorf, Germany (PRWEB) December 15, 2014
The nature of human identity -- its source, development, validity, reality, and constant changes -- is explored by three young contemporary artists from the US. Ian Cheng, Wu Tsang and Jordan Wolfson are featured in a new exhibit titled "REAL HUMANS" at Kunsthalle Düsseldorf, February 7 – April 19, 2015.
Each of the artists engages in different ways with these processes of identity, making the exhibit a colorful and fascinating invitation to see the ways we and others understand individual and collective identity.
Ian Cheng: Los Angeles-based Ian Cheng – who studied cognitive science at UC Berkeley and then worked at George Lucas's visual effects company, Industrial Light & Magic -- explores the boundary between the physical and digital body in animation and graphics, using digital imaging techniques to create visual simulations and worlds in which the identity continuously changes.
Wu Tsang: Wu Tsang's films and performances focus on the sociological, technological and cultural characteristics of human desire and individual lifestyles. Tsang has been one of the most visible representatives of contemporary and mainstream transgender artists, and his exploration of identify is often from a perspective of gender, sexuality, ethnicity, and educational background.
Jordan Wolfson: Wolfson -- who is known for his sophisticated and striking work with robots, animation and animatronics -- reveals the dynamics of psychological identification processes within a capitalistic image world and pop culture.
For more information on the upcoming exhibit, visit http://www.kunsthalle-duesseldorf.de/index.php?id=321.
Düsseldorf's tourism office is offering hotel and city specials for many of the city's events. The package, called "Düsseldorf à la Card," can be booked right from the tourism office's website at https://www.duesseldorf-tourismus.de/en/accommodation/hotel-packages/duesseldorf-a-la-card/. Prices currently start at €49 per night per person based on double-occupancy for a 2-3-star hotel in the city center and at €95 per person for a 4-star hotel. The package includes breakfast, one DüsseldorfCard (free public transportation within city limits plus 30 free or reduced admissions to city attractions), and a city information package. Please check the website for current information.
For more information about Düsseldorf, please visit: http://www.visitduesseldorf.de.
Düsseldorf Marketing & Tourism GmbH is the visitors and convention bureau of the city of Düsseldorf. Its responsibilities include tourism and city marketing, as well as conference and meeting marketing, hotel reservation services, fairs and convention services, city event ticket sales and advance ticket reservations. For more information, visit http://www.visitduesseldorf.de.
Düsseldorf Airport, Germany's Next Generation HubTM, offers several non-stop flights from US & Canadian cities (Atlanta, Chicago, Ft. Myers, Los Angeles, Miami, New York, Newark), as well as convenient connections to many European cities. For more information about the airport, visit http://www.dus.com.