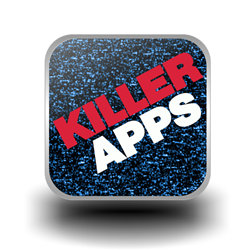 I worked with these brands on the tour to help viewers find some of the coolest gifts for their loved ones. There really is a tech gift out there for everyone!
West Palm Beach, FL (PRWEB) December 15, 2014
The Consumer Electronic Association's found that 3 in 5 adults are expected to give the gift of technology this year. To help audiences get a good start, News Media Group produced a satellite media tour with Tech Expert Andrea Smith, where she shared some of the hottest devices of the season. The tour is featured on the consumer technology website http://www.KillerApps.TV.
"I worked with these brands on the tour to help viewers find some of the coolest gifts for their loved ones," said Andrea Smith. "There really is a tech gift out there for everyone!"
Here are some of Andrea's gift ideas for the holidays:
Amazon Fire TV, a tiny box that plugs into a HDTV for easy and instant access to Netflix, Prime Instant Video, Hulu Plus, WatchESPN, SHOWTIME, low-cost video rentals, and much more. Fire TV also brings photos, music, and games to the living room. Priced at $99.00 and available for purchase through http://www.amazon.com, Best Buy, and Staples. For more information, visit http://www.amazon.com/firetv
For everyone on the holiday wish list, check out LG's Tone Series of ergonomically designed, wireless Bluetooth headsets. Whether the choice is the LG Tone Infinim, LG Tone Ultra or LG Tone Pro, these lightweight headsets add convenience to daily commutes, business trips or workout sessions. The LG Tone Infinim features Harman Kardon® Signature Sound with retractable earbuds and the LG Tone Ultra features JBL Signature Sound, for the utmost in premium audio and convenience. The LG Tone Series is compatible with any Bluetooth-enabled device and is the perfect gift for everyone no matter the budget this holiday season. For more information, visit LG Tone.
Amiibo is a new way to play with one's favorite Nintendo characters and games. The new amiibo figures produced by Nintendo are for use with the 3DS and WiiU platforms. Tap amiibo figures to the Wii U GamePad controller to interact with compatible games—no portal required. Different games will work with amiibo figures in different ways. A single amiibo figure may unlock features in multiple amiibo-compatible games. In Super Smash Bros.™ for Wii U, one can battle, train, and level-up their amiibo figures. Create a unique amiibo by adjusting its attack, defense, and speed. The Mario amiibo bundle is $69.99 at GameStop, and individual figures are $12.99. For more information, visit http://www.gamestop.com/holiday.
Buy any of the top tablets from T-Mobile (iPad, Samsung, etc.) and T-Mobile will give 200MB of free 4G LTE data every month for life. And for a limited time, when one adds a tablet to their voice plan, T-Mobile will match the data plan of the largest voice line on their account (up to 5 GB) for only $10 per month—all with no annual service contracts or data overages. This holiday, T-Mobile Simple Choice customers can also get the popular Personal CellSpot for free through the end of the year. It's like having their own T-Mobile tower, delivering full-bars of coverage anywhere they choose − beyond the reach of any cellular network. Tablet data plans start at just $10 a month. Available in T-Mobile stores and at http://www.T-Mobile.com
The simplehuman sensor mirror lights up automatically as one's face approaches. Its tru-lux light system simulates natural sunlight, allowing the user to see full color variation, so they'll know when their makeup is color-correct and flawless. And unlike traditional bulbs, the simplehuman sensor mirror's long-lasting LEDs won't burn out or diminish even after many years. The sensor mirror was designed to be cordless, so there are no messy cords cluttering up one's counter space. The mirror is offered in 3 sizes and magnifications. It easily recharges with the included USB cord and adapter, and one charge lasts up to 5 weeks. Priced at $200 for the 8" sensor mirror, purchases can be made at Bed Bath & Beyond, Sephora, or online at http://www.simplehuman.com/sensor-mirrors.
For more information about all of the featured products and more, visit http://www.KillerApps.TV.
About News Media Group Inc.
Founded in 2009, News Media Group Inc. (NMG) produces original television and radio programming with industry experts and celebrities that help public relations professionals gain media exposure for their brands and clients. Based in West Palm Beach, Fla., with studio locations in South Florida, New York and Los Angeles, News Media Group is a leader in organizing and producing high profile Co-Op and Exclusive Satellite Media Tours (SMTs), Radio Media Tours (RMTs) and Ground In-Studio Media Tours (GMT's) throughout the year with Fortune 500 and other leading companies and public relations agencies. NMG shares these trends with consumers through its technology website, KillerApps.TV, and its consumer lifestyle website, InTheNews.TV and their "What's #Trending Now" segments. Visit http://www.newsmg.com to learn more.
Contact:
Karl Wayne, Executive Producer
News Media Group Inc.
(334) 440-6397
Karl(at)newsmg(dot)com