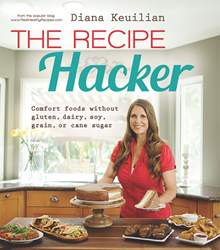 Baking and cooking really is magic.
Chino Hills, CA (PRWEB) December 15, 2014
The Recipe Hacker is a cookbook containing over 100 popular recipes that have been broken down, reverse engineered, and rewritten to exclude harmful ingredients that encourage the body to store fat. By eliminating all processed sugars, grains, soy, dairy, and gluten, the recipes within The Recipe Hacker are designed to kick start the body's metabolic rate and increase the amount of calories burned during workouts as well as ordinary activity. The book features detailed ingredient lists, preparation guides, and full color photographs showcasing each of the healthy recipes.
Diana Keuilian has been steadily increasing her online popularity and web presence for the last five years. She began writing and posting on her blog, RealHealthyRecipes.com, and wrote there exclusively for years as her following increased and her reputation grew. Only 15 months ago she decided to put out her first series of digital cookbooks. The response to these products was hugely positive. Since the launch of her digital products she has been featured in multiple health publications, including Shape.com, she has been a featured presenter at business conferences and online product conventions, and has produced a growing library of video content with massive online response.
This explosion of online popularity attracted the attention of publishing companies and booksellers and, just over one year after publishing her first online content, Keuilian launched her first print Cookbook, The Recipe Hacker.
But it is not the success or popularity that drives Keuilian to produce and sell high quality content, it is her passion for healthy eating and proper nutritional lifestyle that keeps her producing and forces her to perform as one of the best health-centric cooks on the web.
She explains that being a "mommy" is what gave her the inspiration and the drive to not only live a healthy lifestyle but to share her lifestyle with tens of thousands of others seeking the same alternatives to processed foods.
On her website she tells her origin story, reveals her own struggles with weight, and recalls the instant in time when she decided to peruse a completely healthy lifestyle. "In that moment," she explains after telling how her son observed that she ate unhealthy, processed foods, "I realized that even though the bulk of my diet was real, wholesome food, my kids were paying attention to the exceptions that I was allowing into my life. It was time to practice what I preach, and to say goodbye to processed food completely. I was in for a surprise at how fully and completely this simple decision transformed my life. Not only have I had the immense pleasure of sharing my recipes with thousands of amazing people, but I now live life at my ideal weight, in a healthy, vibrant way."
"Baking and cooking really is magic," says Keuilian as she talks of the passion that drives her. "You start with an assortment of ingredients, each nothing special alone, and in no time at all you create something delicious… Cooking with whole foods is so enjoyable. When your ingredients are fresh, organic and have delightful natural flavor, then you're bound to make culinary magic happen."
About Diana Keuilian and RealHeathlyRecipes.com:
Diana Keuilian is a blogger, chef, fitness trainer, videographer, author, online personality, and Internet marketer. She produces weekly content on her blog and YouTube channel exploring healthy eating and lifestyle that excludes fat-retaining processed foods.