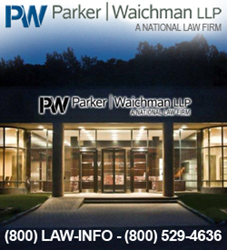 "Consumers should have access to safe, regulated products that do not pose serious risks for adverse reactions and death. Unsafe products should be banned or should contain very clear warning labels regarding potential side effects."
Port Washington, New York (PRWEB) December 12, 2014
Parker Waichman LLP, a national law firm representing patients injured by consumer products, drugs, and medical devices comments on a letter written by Democratic senators to federal regulators regarding powdered pure caffeine.
Senators Sherrod Brown (Democrat-Ohio) and Richard Blumenthal (Democrat-Connecticut) recently wrote to U.S. Food and Drug Administration (FDA) Commissioner, Margaret Hamburg requesting a ban on the sale and marketing of powdered pure caffeine, according to a December 9, 2014 Dayton Daily News report. The letter followed the death of an 18-year-old high school senior who ingested the product days prior to his graduation.
"Given that very small amounts of powdered caffeine can cause severe adverse events including death, it is time for the FDA to use its authority to ban the sale and marketing of this dangerous product," the senators wrote. "When a 'single teaspoon of pure caffeine is roughly equivalent to the amount in 25 cups of coffee,' Americans deserve clarity on the dangers of powdered caffeine, which is still being sold at stores and on the internet, as well as better oversight of this potentially fatal product." The boy's parents came to Washington D.C. this week seeking a ban of the product and meeting with the senators, the Dayton Daily News reported. The boy's mother said her son took the powdered caffeine believing it to be safe and to help him get through what he thought was going to be a busy week.
"Powdered caffeine is marketed as a dietary supplement, which means that the product is not regulated," noted Gary Falkowitz, Managing Attorney at Parker Waichman LLP. "Consumers should have access to safe, regulated products that do not pose serious risks for adverse reactions and death. Unsafe products should be banned or should contain very clear warning labels regarding potential side effects."
The FDA announced on July 21, 2014 that, it "is warning about powdered pure caffeine being marketed directly to consumers, and recommends avoiding these products. In particular, FDA is concerned about powdered pure caffeine sold in bulk bags over the Internet…. Pure caffeine products are potentially dangerous, and serious adverse events can result, including death."
While the FDA recommended consumers avoid buying the caffeine products, senators Brown and Blumenthal indicated that the agency's answer is "inadequate" and they seek a complete ban. "We need the FDA to step in and do the right thing here," Senator Brown said, according to the Dayton Daily News.
Unregulated supplement products are often accompanied with little or no data to support information about dosage, safety, efficacy, and efficiency regarding their use, Parker Waichman LLP indicates, potentially presenting dangers to those who consume the products.
Drugs must go through an approval process with the FDA to ensure safety and efficacy and appropriate testing and labeling. These processes ensure consumers, and their physicians, are aware of potential drug interactions, adverse reactions, and appropriate uses, for example, Parker Waichman LLP indicates. Dietary supplement products, such as pure caffeine powder, do not undergo these processes.
Parker Waichman LLP offers free lawsuit consultations to consumers who believe they, or their loved ones, have been injured due to powdered caffeine products. If you or someone you know purchased a powdered caffeine product, please visit the firm's Drug Injury Page at yourlawyer.com. Free case evaluations are also available by calling 1-800-LAW-INFO (1-800-529-4636).