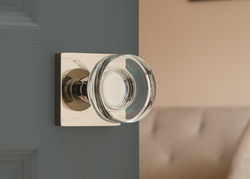 Los Angeles, CA (PRWEB) December 15, 2014
Custom hardware giant Emtek is pleased to announce that its Modern Disc Crystal Knob is the winner of the 9th annual Interior Design Best of Year Awards in the hardware category.
A standing-room only crowd of more than 950 designers and manufacturers gathered at the Frank Gehry-designed IAC Building in New York on December 4, 2014, to hear the winners announced by Interior Design magazine's editor in chief, Cindy Allen, and president and publisher, Mark Strauss, using the IAC's 80 foot video wall to present.
Emtek's Modern Disc Crystal Knob was one of 2,000 products in more than 100 categories in the 2014 Best of Year awards. The decorative knob brings elegance and current design trends together for a look that is unlike anything else on the market today.
For the ninth year in a row, Interior Design magazine invited designers and architects to vote on their favorite products during a two-week voting period from Oct. 6 to 17, 2014. This year, Interior Design magazine's product voting site experienced a 50% increase in number of unique visitors – with 600,000 page views and 60,000 votes.
Winners were chosen by Allen and a jury of design leaders, and will be featured in the December 2014 issue of Interior Design.
About EMTEK®
Emtek has emerged as a designer of ultra-high-quality, stylish hardware products. Founded in 1981 in the City of Industry, the company provides a variety of well-designed and well-made door handles, knobs, cabinet pulls, deadbolts, door accessories and related hardware that consumers can use as elements of decor. Emtek products are sold in designer showrooms and independent door hardware retailers in the United States, Canada and Mexico. Visit http://www.emtek.com for further information.
About Interior Design
Interior Design magazine is the definitive resource for interior designers, architects, and other design professionals, featuring groundbreaking projects, innovative new products, real-time design industry news, and exclusive in-depth research. Interior Design is the design authority in the B2B design market. Its Best of Year (BoY) Awards is the preeminent competition of the design industry, annually recognizing superior products and interior design projects.