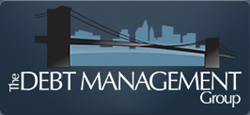 The holiday season/end of year is always our busiest. Every holiday season people go into debt and often spend more than what they should. Often times people overspend and need services such as these to help them get out of deb
Brooklyn, NY (PRWEB) December 12, 2014
The holiday season is a busy time of year for nearly all businesses, and The Debt Management Group is no different. The debt management and relief company recently welcomed a team of new debt management consultants in anticipation of their busy season. The new team members will allow The Debt Management Group to better manage their increased workload. "We are going into our busy season and want to have more staff on hand to deal with our busy schedule," says John Diaz, spokesperson for The Debt Management Group.
Consumer confidence in the economy has recovered since the Great Recession; however, holiday spending often lands consumers in debt. "The holiday season/end of year is always our busiest. Every holiday season people go into debt and often spend more than what they should. Often times people overspend and need services such as these to help them get out of debt," explains Diaz.
Debt management consultants play an integral role in the company by fully assessing the client's current financial situation and working with them to craft a solution that best meets their needs. In addition to debt relief solutions, debt management consultants also offer financial planning advice, which helps clients better plan for their futures.
"Some people are just looking for a smarter way to spend their money, usually by consolidating, that will help them to eliminate their debt and/or save for the future such as a 401K or college funds for kids," says Diaz.
The Debt Management Group is pleased to add more jobs to New York City's booming job market, with unemployment rates the lowest they've been in nearly six years. "We are pleased to be adding jobs in the local Brooklyn market as business is growing and are hoping to be adding more jobs in the first quarter," states Diaz.
According to October figures from the state's Labor Department, the city's unemployment dropped to 6.4 percent. In addition, the amount of private sector jobs being created in the New York metropolitan area is as fast, if not faster than the rest country as a whole. Over a one year period ending in October of this year, the number of private sector jobs in city increased by 87,200 -- thanks in part to thriving, local businesses like The Debt Management Group.
About The Debt Management Group
Located in Brooklyn NY, The Debt Management Group provides in depth debt solutions to customers looking for financial salvation. For more information, please visit thedebtmanagementgroup.com