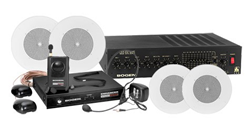 milwaukee, wi (PRWEB) December 15, 2014
There are all kinds of sounds and forms of communications throughout the day at area schools. For most kids, the favorite sound is the bell for lunch time. This is a welcome break from the usual learning cycle and it represents fun and laughter, but most importantly, eating tacos & peanut butter sandwiches and let's not forget the extra healthy stuff too. (Love tacos)!
Now that everyone is good and hungry…Some kids least favorite sound is the periodic page on the intercom system calling student's names to go to the principal's office. Sometimes they're not even in trouble, but being called to the principal's office just always seems like they are. And what kid doesn't love the occasional interruption of a fire drill especially on a nice sunny day.
It was really cool back in the day to get a small mental break as someone from the office would interrupt a teacher during a lesson. Talking through the big brown box on the wall under the clock, giving instructions, informing of a change of plans or asking a question about a student.
The fact of the matter is, teachers and administrators throughout the day have to be able to communicate and deliver information to each other and with students as emergencies such as; severe weather, fires, intruders and injuries require an immediate response.
Many times this is not possible with a face to face approach, as teachers sometimes have to manage a large number of students along with the many other responsibilities they encounter.
Telcom& Data has many options for schools to fill the need for communication and safety for staff and students.
Bogen classroom intercom systems offer features such as single button access to individual classrooms, paging for all rooms, inputs for background music or recordings, and tone signals for class start and stop times.
And yes, perhaps even the lunchtime bell. (Getting hungry)!
Bogen Classroom Intercom Systems is now available at Telcom & Data. For more information about these fantastic communication products, visit Telcom& Data's website or call 1-800-335-0229.
ABOUT Telcom & Data:
Since 1996 Telcom & Data has been providing thousands of telecommunication solutions to organizations around the world to measurably improve communications. The company is a leader in call recording and call accounting solutions. Telcom & Data maintains a network of over 1500 technicians with locations in Chicago, Milwaukee, and Miami.