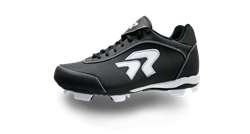 Our new Diamond Dynasty 2.0 cleat delivers the finest quality in fastpitch
Wilsonville, OR (PRWEB) December 17, 2014
Long recognized as the leader in design-driven, high-performance softball products for women, RINGOR, will bring two forward-thinking, inspired, new molded cleat designs to the field in January, 2015. The redesigned Diamond Dynasty 2.0, is an extremely lightweight cleat with an all-new outsole. In response to the exponential growth of youth softball, RINGOR is energetically expanding and creating products that ensure young girls get into the game with the highest quality equipment designed for fastpitch. The company is introducing its first youth-specific cleats: The Spark is engineered for young athletes who depend on performance and style from softball cleats.
RINGOR pioneered women's fastpitch softball footwear by producing the first cleat and spike specifically designed for the female foot. During its 31-year history, it has continued to speak directly to its targeted athletes and create designs to improve the performance and durability of its products and players.
"We're very excited about the new Diamond Dynasty 2.0," said RINGOR Marketing Manager Joelle Fanger. "With the original model we figured out how to make the best quality softball cleat available. Our new Diamond Dynasty 2.0 cleat delivers the finest quality in fastpitch."
The new lightweight cleat retains the all-leather upper and Ring-Grip pattern athletes value and will be available for the first time in both women's and youth sizes in a range of popular colors and sizes. The women's version offers an all-leather upper and Pro-Tec-Toes, while the youth version is constructed with a premium synthetic upper.
The new youth-focused Spark cleats answer an ever-growing need as the sport expands. "Fastpitch softball is growing rapidly, especially in the youth leagues, and those girls have been demanding better cleats that are designed specifically for fastpitch," said Fanger. "Not only does the Spark deliver RINGOR design and performance, but it gives young athletes the chance to be involved in choosing their own cleats," she added.
The Spark delivers a tough, but light, premium synthetic upper and a molded outsole and will be available in a Black/Optic Yellow colorway and a range of youth sizes 1.5-6.
About RINGOR
RINGOR is a manufacturer of metal and molded women's softball cleats and spikes, softball equipment bags, women's softball performance apparel and turf trainers. The company, headquartered in Wilsonville, Oregon, was founded in 1983. RINGOR is a direct sales company, whose products are sold through its website, phone sales or through RINGOR's Team Sales department.