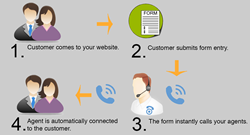 Severna Park, MD (PRWEB) December 14, 2014
CallTrackingMetrics' click-to-call forms (known as FormReactors) make it incredibly easy for businesses to immediately follow up on form leads coming from their website.
The FormReactor is a powerful tool that can help drive better quality leads for businesses, enable agents and call centers to seal the deal while the lead is still hot, and ultimately increase sales.
What is the FormReactor?

It's a tool included in all CallTrackingMetrics' plans.
It allows businesses to create a custom click-to-call form for their website and landing pages.
Every time a potential customer fills out the form, as soon as they click the submit button, the form reacts and automatically calls the business and alerts the answering agent with a custom whisper letting them know there's been a FormReactor submission.
Once the agent accepts the call, the FormReactor automatically connects the agent to an outbound call to the customer who submitted the form.
This is a win-win scenario, the customer receives excellent and speedy customer service and the agent is able contact the customer at the instant they were interested in the product.
According to John Thornton of Black Propeller, one of CallTrackingMetrics Clients: "We love it! The FormReactor makes our jobs easier by eliminating the need to manually review and respond to form submissions. It also helps them convert more sales by establishing a superior level of customer service right from the start. When you respond to a customer's inquiry almost immediately, you really look like you're on top of your game."
If you're looking for a way to convert more of your web visitors into customers, the FormReactor is the way to go. Just like any other marketing tool, it's all about testing, analyzing and testing some more.
To take advantage of this tool, existing CallTrackingMetrics customers can simply go to the FormReactor page within Account Settings and start building their form. To become a customer, visit CallTrackingMetrics' website to sign up. The FormReactor is available through all 4 of CTM's plans.
About CallTrackingMetrics:
CallTrackingMetrics, founded in 2008 by Todd and Laure Fisher, was launched to assist advertising agencies and businesses track which advertising sources were converting into phone calls. They have developed a unique algorithm to match exact website visitors to phone calls. CallTrackingMetrics has since evolved from a small phone call tracking company to an international leader in the industry; providing in depth call cracking services to over 7,000 companies in over 30 Countries worldwide, and have tracked millions of phone calls.
CallTrackingMetrics has gained much of it's popularity for their excellent customer service, easy to use software and ability to integrate with major services such as Google Analytics, Adwords, Salesforce, Optimizely and Wordpress.