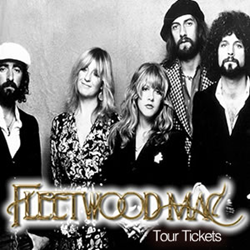 Due to the outstanding success of the Fleetwood Mac On With The Show Tour, more 2015 shows have been added with tickets released today for nine US cities.
Bakersfield, CA (PRWEB) December 15, 2014
Due to the outstanding success of recent Fleetwood Mac concert dates, new shows have been added for their 2015 tour. Tickets released today for nine US cities including Bakersfield, Denver, Orlando, Dallas, Houston, Miami, Oakland, Atlanta, and Las Vegas. Tickets for these concerts and all Fleetwood Mac shows are available at FleetwoodMacConcertDates.com online even when sold out at the box office.
Fleetwood Mac returns to the concert stage with their On With The Show Tour. The band began as a British blues act in the late 1960's, with drummer Mick Fleetwood and bassist John McVie; John's wife, Christine McVie soon joined the group on keyboards and vocals. The band shifted towards mainstream rock and pop in the 1970's, especially after the addition of an American duo, guitarist Lindsey Buckingham and vocalist Stevie Nicks. With this lineup, Fleetwood Mac cut its self-titled album in 1975, earning praise for the smooth melodies and haunting lyrics of hits like Rhiannon, Say You Love Me, and Landslide. Amid rumors of drug abuse, infidelity, and infighting, Fleetwood Mac released Rumours in 1977, which topped charts around the world and spawned a string of hit singles: Go Your Own Way, Dreams, Don't Stop, You Make Loving Fun, and The Chain. The group showcased its broadening musical range with 1979's Tusk, from the tribal drum beat of the title track to the heartbreaking ballad Sara. Despite more hits in the 1980's, like Big Love and Little Lies, inner tensions finally fractured Fleetwood Mac. By 1988, band members began going their separate ways. In 2014, for first time decades, Fleetwood Mac's complete line-up comes together for another powerhouse concert tour.
In addition to Fleetwood Mac in April, the Rabobank Arena in Bakersfield hosts Enrique Iglesias and Pitbull on February 12 followed the Enrique Iglesias and Pitbull February 17 performance at The Pepsi Center in Denver, where due to the overwhelming response to their earlier show, Fleetwood Mac returns on April 1. Other musical acts performing at the Pepsi Center in Denver for 2015 include Bette Midler and Neil Diamond in May and Taylor Swift who performs 2 shows on September 5 and 6.
Fleetwood Mac revisits The American Airlines Center in Dallas, TX in March. The Trans Siberian Orchestra presents two shows on December 21, 2014, Billy Joel Tour performs there in January with Maroon 5 performing in February.
Another venue Fleetwood Mac makes a second visit to is The Toyota Center in Houston, TX where Maroon 5, Bette Midler and Neil Diamond tickets will also perform in 2015.
Likewise Maroon 5 tickets, Bette Midler, and Billy Joel each have shows at The Philips Arena in Atlanta, GA with Fleetwood Mac returning for a second concert there in March.
Many of these Fleetwood Mac tickets may be purchased with an E-Ticket option, meaning a paper ticket may be printed right from the buyer's computer. With the 125% ticket guarantee of authenticity, guaranteed admission to the Fleetwood Mac concert and BBB accreditation, fans need not be concerned about an E-ticket.
Buy seats for the Fleetwood Mac concerts by phone at 855 805 5266 for professional personal assistance.
About Financial Firebird, Fleetwood Mac Concert Dates and Tickets Cheapest:
The site to buy cheap concert tickets and its sister sites, including the site to purchase show tickets like Aladdin on Broadway, are affiliated with the Financial Firebird Corporation Travel Group. Financial Firebird Corporation, established in 2000 and is a proud BBB member. These sites for consumers to buy tickets online operate in the resale market and maintain no relationship with the venues or performers. The resale ticket market allows consumers access to popular events once the box office has sold out or to buy premium seats when the venue no longer offers any inventory. Within the group of these secondary market ticket services the Financial Firebird owned ticket sites offer lower prices than competitors. Find the sites at FleetwoodMacConcertDates.com and TicketsCheapest.com.