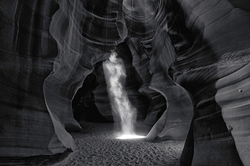 LAS VEGAS, Nev. (PRWEB) December 13, 2014
Professional Photographers of America (PPA) photographer Peter Lik, M.Photog., has sold the most expensive photograph in history. LIK USA™ announced the sale Wednesday.
Lik's image "Phantom" sold to a private collector for an unprecedented $6.5 million. The purchase also included Lik's masterworks "Illusion" for $2.4 million and "Eternal Moods" for $1.1 million. With this $10 million sale, Lik now holds four of the top 20 spots for most expensive photographs ever sold.
"The purpose of all my photos is to capture the power of nature and convey it in a way that inspires someone to feel passionate and connected to the image," said Lik.
PPA, the association through which Lik earned his master of photography degree, says the sale helps to raise the bar in the industry.
"In a market which seems to be valuing photography less and less, this is an important win, obviously for Lik, but also for anyone who sells photography," said PPA's CEO David Trust. "Images like this push the overall value of photography up in the minds of consumers. It basically says, 'What we do is valuable!'"
Lik will address a crowd of photographers for the first time when he delivers a special keynote presentation during PPA's annual convention and expo, Imaging USA, taking place Feb. 1-4, 2015, at the Gaylord Opryland Hotel and Convention Center in Nashville. He will also be presented with PPA's Lifetime Achievement Award.
"We couldn't be happier to have Peter join us and share his passion and talent at Imaging USA," said Susan Michal, PPA president. "Peter's accomplishments in photography speak for themselves, and he is very deserving of the Lifetime Achievement Award. His program is definitely one to get to early because seats will fill up!"
Lik has been a PPA member for nearly 10 years and is a fervent advocate for the association and its membership. He earned his master of photography (M.Photog.) degree from PPA in 2010.
A special exhibit of Lik's oversized work will also be on display for the duration of the show. Lik will pick up the Lifetime Achievement Award during the Award and Degree Ceremony Tuesday, Feb. 3 at 6:30 p.m. He will become just the thirteenth photographer to receive the prestigious award.
Lik's keynote presentation, "An Evening with Peter Lik" is Monday, Feb. 2, 8-9 p.m. The program is open to anyone with an Imaging USA badge, including all-access and expo-only passes. For the full Imaging USA schedule or to register, visit ImagingUSA.org.
About Imaging USA:
Imaging USA is the longest-running international photographic convention, expo and image exhibition in the world. The event dates back to 1880, when it began as the annual convention and tradeshow for Professional Photographers of America (PPA). More than 10,000 photographers will descend upon the Music City for three days of photography education and inspiration as well as some exclusive photography-related shopping.
About PPA:
Professional Photographers of America (PPA) is the largest international non-profit association created by professional photographers, for professional photographers. Almost as long-lived as photography itself, PPA's roots date back to 1869. It assists more than 27,000 photographers through protection, education and resources for their continued success. See how PPA helps photographers be more at PPA.com.