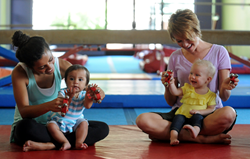 Phoenix, Arizona (PRWEB) December 14, 2014
At The Little Gym, we believe that music is a powerful tool that plays a large role in every child's development. Starting in infancy, babies respond to music through movement and expression; their eyes light up when they hear a song and their bodies naturally bounce along to a beat. As children grow they begin forming sounds and words along with their favorite songs, resulting in language development. Music is an amazing tool that aids in physical, emotional and cognitive development. Here are some simple ways you can incorporate music into a child's day to day activities.
1. Sing to your child when they wake up, go to sleep, or when they are ready to transition into another activity. Incorporating music will allow transitions to occur more fluidly.
2. Have fun with instruments such as shakers, spoons, or LEGO DUPLO bricks. The use of instruments will strengthen your child's hand/eye coordination and body awareness.
3. Put on your child's favorite tunes and have a dance party! Dancing aids in physical development through movement, coordination and flexibility.
Music has so many developmental benefits for children of all ages. Use these suggestions to incorporate music in your child's everyday activities and see how positively they respond. For even more musical fun, bring home The Little Gym's "20 Move-Along Fun Songs" and "20 Sing-Along Fun Songs". The fun and interactive CD's are available for purchase through TheLittleGym.com/Shop or online at Best Buy, Barnes and Noble, Walmart, iTunes, and Amazon.com.