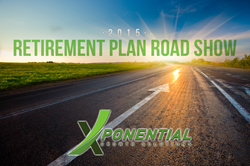 We believe that the best way to help participants is by equipping decision-makers with proper education & training
(PRWEB) December 15, 2014
Xponential Growth Solutions is proud to announce another year of helping America's employees reach their retirement plan goals. The Retirement Plan Road Show is a series of educational summits that gather local retirement plan leaders to discuss fiduciary best practices alongside the industry's leading and most influential experts. Topics discussed include plan fees, fiduciary responsibility, plan design, investments, health care, and wellness.
The 2015 road show continues the success of the 2012, 2013, and 2014 campaigns. In 2014 alone, the road show has helped positively impact 400+ companies and organizations, 835 thousand plan participants, and greater than $39 billion in retirement plan assets.
"We are eager to continue training sessions in existing territories and are excited to explore new areas," said Jon Freye, Managing Director of XGS. "We believe that the best way to help participants is by equipping decision-makers with proper education and training."
The 2015 Retirement Plan Road Show is already scheduled to stop in cities in Alabama, California, Colorado, Florida, Iowa, Maryland, Massachusetts, Michigan, Mississippi, New York, North Carolina, Oklahoma, Pennsylvania, Tennessee, Texas, Virginia and more. To learn more about the Retirement Plan Road Show or to request a 2015 stop in a city near you, contact the Tour Director at 619-795-3920, info(at)xgrowthsolutions.com, or fill out the early registration form online.
About Xponential Growth Solutions
Xponential Growth Solutions (http://www.xgrowthsolutions.com) provides matchmaking services for the retirement plan industry, partnering with forward-thinking plan sponsors, industry leading advisors and service providers. The XGS training and educational summit opportunities present a forum to empower sponsors to help America reach their retirement goals one retirement plan at a time.