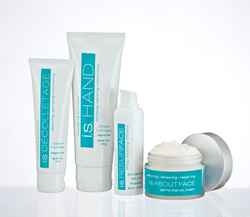 "The ABOUT Face cream is the best product that I've ever found for my face."
(PRWEB) December 13, 2014
"As We Change" was featured on NewsWatch as part of its monthly Health Watch, which features the latest health related products and services available to consumers. Susan Bridges, a health expert and host of NewsWatch, conducted the review and shared with viewers how they released a new line of solutions for skin and eye care.
As We Change, under the umbrella company Silver Star Brands, has just released a new line called Innovative Solutions. As We Change is the first nation mail-order company to focus exclusively on the needs and preferences of women over 40, providing a private and convenient place to turn for products and solutions.
There are 7 main products in the Innovative Solutions line for eye and skin care, but the two most popular products are the BROW Intensified and the ABOUT FACE.
The BROW Intensified responds to the prominent brow beauty trend by giving immediate and sustained brow definition with their highly pigmented, rich texture gel cream. The ABOUT FACE is a moisturizing face cream that helps fight signs of aging with ingredients. The cream is clinically proven to reduce wrinkles and expression lines and to increase firmness and skin elasticity, improving overall skin tone and texture. Both of these product from the Innovative Solutions are great to look the best over the holiday season.
To learn more, visit http://www.aswechange.com
About NewsWatch
NewsWatch is a weekly 30-minute consumer oriented television show that airs on the History Channel, FYI Network, and ION Network. NewsWatch regularly features top technology products and services, mobile applications for iOS, Android, and Windows devices, unique and beautiful travel destinations around the world, health and medical tips, and entertainment interviews on the show. NewsWatch airs on the History Channel at 6:00 – 6:30 AM ET/PT and on the FYI Network from 7:00 – 7:30 AM ET.
NewsWatch is located in the greater Washington, DC area and has been on air for over 25 years. For more information or to watch the most recent episode, visit http://www.newswatchtv.com/healthwatch.html.