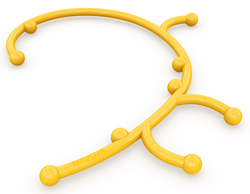 "I'll never use another massager again."
(PRWEB) December 14, 2014
"Back Hook Massager" was featured on NewsWatch as part of its monthly Health Watch, which features the latest health related products and services available to consumers. Susan Bridges, a health expert and host of NewsWatch, conducted the review and shared with viewers how it helps relieve tension and stress at any point on the body.
The Back Hook Massager is unique in its design and shape. It has 9 knobs that can reach any point on the body to relive tension and stress. The knobs allow a person to dig deep into their skin in a controlled motion. Its design makes the device easy to hold onto the handles and the find the perfect spot to massage.
The massager is recommended by physical therapists to treat sore muscles, aches, and pains throughout the body. It's made out of a strong plastic, so it's lightweight and easy to transport. It sells for just $29.97 and it comes with a nylon storage bag.
This is a great tool for anyone that's sore or has knots in their back, shoulders, or just needs something to relax their muscles without breaking the bank. The massager is currently available on Amazon, which can be found by searching for the "Nayoya Back Hook Massager" in the search engine.
To learn more, visit http://www.nayoya.com
About NewsWatch
NewsWatch is a weekly 30-minute consumer oriented television show that airs on the History Channel, FYI Network, and ION Network. NewsWatch regularly features top technology products and services, mobile applications for iOS, Android, and Windows devices, unique and beautiful travel destinations around the world, health and medical tips, and entertainment interviews on the show. NewsWatch airs on the History Channel at 6:00 – 6:30 AM ET/PT and on the FYI Network from 7:00 – 7:30 AM ET.
NewsWatch is located in the greater Washington, DC area and has been on air for over 25 years. For more information or to watch the most recent episode, visit http://www.newswatchtv.com/healthwatch.html.