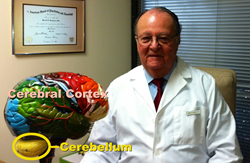 Although ocularmotility disorders do not cause dyslexia, visual therapies are helpful when acuity and cerebellar- determined fixation and sequential tracking problems secondarily contaminate the reading impairmen
(PRWEB) December 16, 2014
Commenting on a new MRI dyslexia study, Levinson claims its findings are accurate. However, "the results of this important study were incorrectly interpreted due to an inadequate clinical understanding of dyslexia, its neurophysiological origins, and its many symptoms and helpful therapies."
A functional MRI dyslexia study was recently reported 11/30/14 by Ibone Saralegui, MD and colleagues at the Radiological Society of North America100th Annual (Chicago) Meeting. Their results indicated that patterns of brain activation in both readers with strabismus- related ocular motility disorders and normal individuals were similar but significantly different from dyslexics.
"Dr. Saralegui's team believed that the reading disorder in dyslexia was due to phonological vs. visual deficits. They thus mistakenly concluded that dyslexics would only benefit from phonologic therapies, not special lenses and visual modalities," notes Levinson.
"Unfortunately the currently popular phonetic deficit theory fails to explain and encompass the known visual symptoms and mechanisms characterizing the reading impairment in dyslexia. These include visual reversals, impaired ocular fixation, sequential tracking and nystagmus, ocular perseveration, blurring, oscillopsia, double vision, tunnel vision, poor visual word memory, delayed visual processing, etc."
"The phonological deficit theory also completely fails to encompass and explain all the many non-reading symptoms invariably present in dyslexics. Included are those affecting writing, math, memory, speech, concentration, spatial-temporal and balance/coordination. The phonological hypothesis clarifies only one small but important piece of the total multidimensional dyslexic pie: phonetic deficits and related therapies."
Had the researchers utilized Levinson's independently substantiated cerebellar dyslexia theory and insights, he believes their study's results would have been more holistically and scientifically interpreted.
For example, Levinson had previously proposed "that a fine-tuning impairment within the cerebellum and inner-ear can readily explain all the reading and related cognitive symptoms resulting when normal visual, auditory, phonetic and other brain centers fail to descramble the 'dizzy' signals received and transmitted."
The cerebellar theory also explains how these scrambled signals affect the motor system in dyslexics, resulting in the typically found cerebellar- determined ocular-motor tracking impairments, dysgraphia, dyspraxia or varied imbalance, dysrhythmic and dyscoordination symptoms.
Having examined and successfully treated over 35,000 dyslexics, Levinson recognized that "impaired ocular fixation and sequential tracking due to cerebellar dyslfunctioning secondarily adds more visual scrambling during reading. Although the latter does not cause dyslexia by itself, it certainly intensifies the impairment. Thus larger, darker, bottom heavy typeset as well as tinted, glare free lenses often facilitate reading in dyslexics by improving or stabilizing visual mechanisms.
Also ocular-motor exercises frequently improve the inner-ear-determined visual fixation and tracking mechanisms found impaired in dyslexics. Thus the resulting signal-scrambling symptoms correspondingly improve."
Levinson also recognized that primary ocular motility and other visual acuity impairments often coexist in dyslexics, albeit not causing the disorder. However, they secondarily further complicate reading activity. Therefore corresponding ocular therapies providing clear vs. blurry images and enhanced depth perception while decreasing ocular fatigue are helpful.
Since inner-ear dysfunctioning often secondarily intensifies strabismus and the resulting motility disorders by asymmetrically distributing ocular muscle tone and strength, visual therapies may also improve strabismus and its negative impact on binocular vision.
Thus visual and other cerebellar-vestibular and cognitive enhancing therapies provide dyslexics with the best chance of recovery while also improving phonological deficits and even strabismus.
About Dr. Harold Levinson
Formerly Clinical Associate Professor of Psychiatry at New York University Medical Center, Dr. Harold Levinson is currently Director of the Levinson Medical Center for Learning Disabilities in Long Island, New York. He is a well-known neuropsychiatrist, clinical researcher and author. For more information, call 1(800)334-7323 or visit: http://dyslexiaonline.com