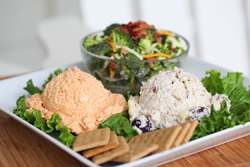 Prattville, AL (PRWEB) December 16, 2014
Chicken Salad Chick, the nation's newest fast-casual restaurant concept, is opening its new franchise in Prattville today. The new restaurant is located in the High Point Shopping Center at 588 Pinnacle Place, Prattville, AL 36066.
The new restaurant is owned by Justin and Cassie Boyd of JustCass, LLC. The Boyds currently own and operate two Chicken Salad Chick restaurants in Montgomery, AL. "We have been highly anticipating the opportunity to share the Chicken Salad Chick experience with the city of Prattville, and we are very excited that time is finally here," stated Justin. "Prattville is bustling with new growth, no doubt due to its friendly and hospitable residents. We feel Chicken Salad Chick is a perfect addition to an already great city."
Born In Alabama -- The Chicken Salad Chick concept was established in Auburn, AL in 2008 in the kitchen of founder, Stacy Brown. Stacy quickly learned that selling a homemade recipe from her kitchen is against the law, and after being shut down by the health department, she decided to solicit the business expertise of her future husband and fellow founder, Kevin Brown. Together, they opened a small takeout restaurant which quickly grew to enormous demand and additional locations. Chicken Salad Chick has currently sold 100 franchises to be developed across the states of Alabama, Florida, Georgia, North Carolina & South Carolina, Tennessee, and Texas.
"We are so grateful for the many fans that we already have in the Prattville area, and can't wait to better serve them in their own community," said Kevin Brown, president of Chicken Salad Chick. "Prattville has been on our radar for a while now, and we could not be more pleased that the Boyds will be sharing our concept there."
About Chicken Salad Chick
Chicken Salad Chick puts an edgy twist on a southern classic, offering guests a "custom-fit" chicken salad experience with 15 original flavors to choose from, as well as gourmet soups, flavorful side salads and freshly-baked desserts. There are currently 27 Chicken Salad Chick locations open throughout the Southeast. Corporate offices are located at 724 North Dean Road in Auburn, Alabama. See http://www.chickensaladchick.com for additional information.