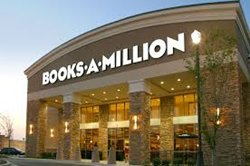 I was elated when President Obama purchased this book as it is one of the great works released this year and is a must-read for everyone. Terrance G. Finley, CEO and President of Books-A-Million
Birmingham, Ala. (PRWEB) December 15, 2014
While shopping at a Washington D.C. bookstore over Thanksgiving Day weekend, President Obama purchased "All the Light You Cannot See" by Anthony Doerr. The novel is also the inaugural selection in the President's Pick series by Books-A-Million's CEO and President Terrance G. Finley.
"Making Anthony Doerr's epic novel my first President's Pick was an easy choice. It is a thoroughly engaging work and the critical acclaim it has received is well deserved," said Finley. "I was elated when President Obama purchased this book as it is one of the great works released this year and is a must-read for everyone."
"All The Light We Cannot See" is Doerr's second novel and was published in the spring of 2014 to glowing reviews. The novel was a National Book Award finalist and has spent 28 weeks on the New York Times bestseller list for hardcover fiction. It is also an international bestseller and was named one of the ten best books of 2014 by the New York Times Book Review.
The President's Pick series from Books-a-Million features a handpicked selection of literature from Finley. His most recent choice is "In the Kingdom of Ice" from New York Times bestselling author Hampton Sides. President's Picks can be found at Books-A-Million President's Picks online.
About Books-A-Million
Books-A-Million, Inc. is one of the nation's leading book retailers and sells on the Internet at http://www.booksamillion.com. The Company presently operates 262 stores in 34 states and the District of Columbia.
The Company operates large superstores under the names Books-A-Million (BAM!), Books & Co, 2nd & Charles, and traditional bookstores operating under the names Bookland and Books-A-Million. Also included in the Company's retail operation is Yogurt Mountain Holding, LLC, a retailer and franchisor of self-serve frozen yogurt stores with 44 locations. The Company also develops and manages commercial real estate investments through its subsidiary, Preferred Growth Properties, which presently includes four retail shopping centers.
The common stock of Books-A-Million Inc. is traded on the NASDAQ Global Select Market under the symbol BAMM. For more information, visit the Company's corporate website at http://www.booksamillioninc.com.
Follow Books-A-Million on Twitter (http://twitter.com/booksamillion)