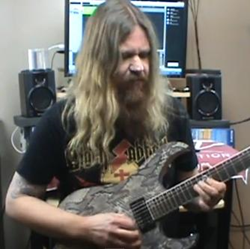 (PRWEB) December 14, 2014
In this lead guitar lesson instructor Darrin Goodman teaches an alternate picking exercise based in the chromatic scale in the style of Flight of the Bumble Bee. Since the lick is chromatic and not diatonic all of the notes are only one half steps apart from one another. Darrin recommends practicing this exercise with a metronome in order to build up speed while retaining accuracy. Guitar TAB's are available for this easy lead guitar lesson at GuitarControl.com.
The Chromatic Scale is a scale that uses 12 pitches each of which are one semitone above or below one another. Each semitone is the same size, 100 cents, and is equally spaced from one another.
Flight of the Bumblebee is an orchestral interlude written by Nikolai Rimsky-Korsakov for his opera The Tale of Tsar Saltan, composed in 1899–1900. The piece closes Act III, Tableau 1, during which the magic Swan-Bird changes Prince Gvidon Saltanovich (the Tsar's son) into an insect so that he can fly away to visit his father (who does not know that he is alive).
A metronome is a device that produces audible "clicks" that are measured in beats per minute that helps musicians keep in time. The metronome dates back to the 19th century when it was patented by Johann Maelzel in 1815.
Darrin Goodman
Darrin Goodman, a native of Ogden Utah, began playing guitar at the age of 12 after hearing KISS at an earlier age. Darrin has been a local finalist for the King of the Blues contest and is the lead guitarist of international recording artist Sonic Prophecy who has performed with artists such as Accept, Sabaton Cinderella and Ratt. Darrin has been teaching private lessons to 30 to 60 students a week from his home studio since 1987.
About GuitarControl.com
GuitarControl.com is the leader in modern guitar instruction. It's packed with recourses including articles, video lessons, and the best videos in the business for the beginner to the advanced guitar student taught by the best instructors out there. Weather you are into the blues, rock, jazz, metal, folk, or anything in between, they have you covered.