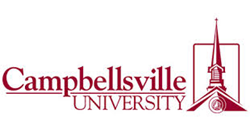 Campbellsville, Ky (PRWEB) December 18, 2014
Campbellsville University gives graduate students the opportunity to develop complementing leadership and management skills through one degree program with the Master of Management and Leadership (MML) degree, which is offered online or at the Campbellsville University center in Louisville, Kentucky. The MML degree coursework emphasizes Christian values and a broad knowledge base, with courses focusing on diverse topics, such as ethics, group dynamics, diversity in the workplace, modern technology, vision, and planning. The degree program uses a cross-disciplinary approach to help students develop the practical skills and theoretical knowledge that are necessary for success in leadership positions in various fields, from business to education to healthcare. The online and in-person MML programs consist of 30 credit hours of coursework; the online degree, which is intended to accommodate students who are working, raising families, or balancing other obligations, can be completed in 10 to 22 months, depending on each student's pace and schedule.
Campbellsville University furthers the educations of its MML students by encouraging personal communication between students and professors; program graduates express high levels of satisfaction with the accessibility of their professors, and even students who take online courses can easily reach out to their professors, since every faculty member is available by phone or email. To apply for acceptance into the MML degree program, students must have a bachelor's degree, meet minimum undergraduate GPA requirements, and furnish adequate GRE or GMAT scores; international applicants additionally need to demonstrate English proficiency through an English as a Second Language test. Campbellsville University offers various resources to students who are applying to the MML program, including an online help desk; students also can directly contact the university admissions office for any information they need regarding admissions requirements, program structure, costs, or financial aid. Students who are interested in applying for acceptance into the MML degree program can do so by visiting the Campbellsville University website.
About Campbellsville University
Campbellsville University is an accredited Christian university that was named one of the top southern regional universities in a ranking from U.S. News & World Report; the university, which is based in Kentucky, offers 17 master's degrees, 63 undergraduate degrees, and pre-professional or postgraduate programs. The university's degree programs typically combine Christian values with career-specific knowledge and skills. Campbellsville University helps students pursue higher levels of education by providing loans, financial aid, performance grants, and other forms of support; anyone who wants to learn more about Campbellsville University can visit campbellsvillegps.com for additional information.