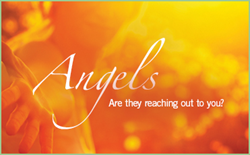 "When I started reliving the situation, it was kind of stunning to me to think I had just had an encounter with God and didn't even know it." -- Rodney Stewart
Loveland, Colorado (PRWEB) December 15, 2014
One person's life-saving and life-changing encounter with what he believes to be an angel will be discussed at Lifetree Café the week of December 21st.
The Lifetree program, titled "Angels: Are They Reaching Out to You," features a filmed interview with Rodney Stewart, a man who shares meeting an angel in the Rocky Mountains saved his life during a hunting trip.
After becoming separated from his brother, Stewart became lost in a heavy snow storm, quickly losing strength and hope.
During the interview Stewart explains he's convinced an angel saved his life.
"I felt a real desperation in me. I felt that if my brother or I was going to have a chance, I had to get out of there" he says. "When I started reliving the situation, it was kind of stunning to me to think I had just had an encounter with God and didn't even know it."
Lifetree Café national director Craig Cable explained this Lifetree session offers an opportunity for attendees to discuss if and how angels really impact people's lives.
"A majority of people believe angels exist on some level," said Cable. "This episode opens the door for people to discuss how they've encountered angels in their own lives in big or small ways."
Lifetree Café is a national network of venues where people gather for conversation about life and faith in a casual coffeehouse-type setting.
Lifetree Café locations and times may be found at lifetreecafe.com.
Watch video preview: http://lifetreecafe.com/#/topics/122114.