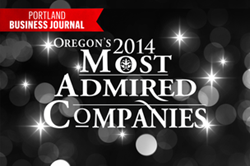 Wilsonville, Oregon (PRWEB) December 12, 2014
The Avamere Family of Companies has been named one of Oregon's most admired health care companies by the Portland Business Journal. The annual list is compiled from a survey of over 3,200 chief executive officers across Oregon and Southwest Washington. Avamere is the only post-acute care provider to be recognized in the health care category, which included hospitals, health insurers, and other providers.
"We are very pleased to be recognized as one of Oregon's most admired healthcare companies," says John W. Morgan, CEO for the Avamere Family of Companies. "This is a clear reflection of the work our employees do on a day-to-day basis to enhance the life of every person we serve. To be the only post-acute provider recognized is an honor and something we do not take for granted. We are committed to providing the highest quality of care for Oregon's seniors and to effectively manage their care across the entire post-acute care continuum."
The 2014 list is the eighth year the Portland Business Journal has asked CEOs in the region to select the three companies they admire most across eight industries. Avamere was ranked alongside some of the state's most prestigious health care institutions such as Oregon Health & Science University, Doernbecher Children's Hospital, and Cambia Health Solutions.
About the Avamere Family of Companies
Founded in 1995 and based in Wilsonville, Oregon, the Avamere Family of Companies began as a single nursing facility in Hillsboro, Oregon. Today, the Avamere Family is comprised of 42 Independent Living, Assisted Living, Transitional Care and Skilled Nursing facilities, over 6,200 employees, and multiple ancillary healthcare companies that provide services including inpatient and outpatient rehabilitation, home care, home health, and hospice. For more information, please visit http://www.avamere.com.
For more information about this topic, or to schedule an interview, please call Drew Hanson at 971-224-2831 or by email at DMHanson(at)avamere(dot)com.