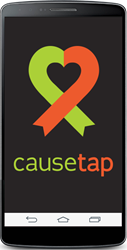 CauseTap is a powerful tool to discover and connect you to the causes you care about. Change is quite literally in your hands.
Brooklyn, NY (PRWEB) December 17, 2014
Just in time for the holiday giving season, CauseTap today launched a smartphone application that makes it easy for consumers to discover fun and useful mobile apps while supporting their favorite nonprofit causes at no additional cost.
CauseTap users select a cause to support, such as environment or education, and browse a wide range of apps, including apps that are popular among other supporters and recommended by the cause. The cause earns money whenever supporters download participating apps from the Google Play store via CauseTap.
There's no extra cost to consumers, whether an app is free or paid, and there's no donation involved. The money for causes comes from participating app publishers that pay a promotional fee when their apps are installed.
"CauseTap combines a dynamic app discovery experience with social impact," said Adam Borut, CauseTap CEO. "We are bringing the power of community to the app marketplace."
The CauseTap application is a free download via Google Play for Android smartphones and tablets. An iOS version will be released early 2015.
Participating nonprofits include local schools and charities as well as national organizations, such as Best Day Foundation, DoSomething.org, Dyspraxia Foundation, Green Schools Alliance, Kiva.org, San Francisco Choral Society, Save the Children, and The ALS Association.
"For many of us, the world's problems seem impossibly large," said Premal Shah, president of Kiva. "It's easy to get overwhelmed to the point where we fail to act. But for every problem there is a world of solutions. CauseTap is a powerful tool to discover and connect you to the causes you care about. Change is quite literally in your hands."
Impact is fully transparent to consumers, participating causes and app publishers. The app automatically tallies individual and collective benefit for causes. Users can easily track the positive impact of their own actions and invite friends to help support their favorite causes through CauseTap.
CauseTap is featured, and available for download, in the Apps section of Sprint Zone and Sprint Fun & Games – two apps that are installed on Sprint Android devices to help customers manage their accounts and discover new, relevant content.
"CauseTap makes it easy for Sprint customers to give back to the charities of their choice while downloading apps they'd normally download to their mobile phones," said Darren Beck, Sprint Corporate Responsibility. "These apps allow our customers to make a charitable impact without any extra out of pocket cost and offers these valuable causes a new opportunity to harness donations."
CauseTap's cause-driven approach to app discovery delivers an enriching, dynamic experience to consumers who can explore apps within their own communities of shared values. Users can view apps recommended by their cause and popular among other supporters.
"CauseTap shares our spirit of entrepreneurship and vision of global betterment," said Maher Janajri, co-founder and CEO, Inbox Messenger. "As an app publisher, we were impressed with how transparent the CauseTap process was for us and how frictionless they've made it for their users. Inbox Messenger is proud to be a part of CauseTap's mission."
Brad Powers, CEO of Cupcake Digital, an award-winning developer of imaginative play and learning apps, added, "We're looking forward to the opportunity to distribute our apps via CauseTap. This new model for user engagement promises to be an extremely valuable way for us to reach parents in a positive and trustworthy environment."
About CauseTap
CauseTap is the developer of the CauseTap app promotion platform and mobile app. The start-up has offices in Brooklyn, N.Y., Austin, Texas, and Milwaukee, Wis. CauseTap is a trademark of Apps Do Good, LLC. All other trademarks and brands are the property of their respective owners.