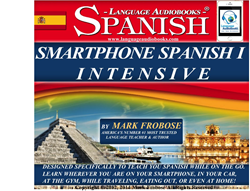 Buy and email a complete language program for delivery to a smartphone on Christmas Day.
Champaign, IL (PRWEB) December 15, 2014
According to results just released by LanguageAudiobooks.com, the nation's leader in digital, smartphone-friendly language programs, most people prefer to learn languages on their iPhones and Androids over any other device.
"The results of our informal study show what we had suspected all along," states Mark Frobose, President of Language Audiobooks Inc., and bestselling author of Smartphone Spanish Intensive.
"Most people think their smartphones are the best place to learn languages simply because they go everywhere with them and are convenient," added the creator of Smartphone Italian Intensive.
And what about computers? What does this study say about them?
"People still like learning languages on their computers, but they find they have more competition for other activities there, and they lose in the area of portability," explains Frobose, who also designed and recorded the bestselling Smartphone French Intensive. "Most people find their smartphones to be the best place to learn languages."
Language Audiobooks Inc. also specializes in downloadable digital language programs and CD programs like the bestselling Power French Accelerated which are extremely fast and easy to learn and that are immediately accessible to any smart phone or computer. The Language Audiobooks' motto is "Learn Languages Everywhere™".
Language Audiobooks' popular Power Spanish, Power French, and Power Italian, Smartphone Mandarin, Conversational Latin-American Spanish, Clean French Slang and other innovative language programs are available for download now at LanguageAudiobooks.com, Audible.com.