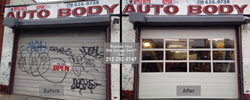 Manhattan, New York (PRWEB) December 15, 2014
Rolling Gates NYC are proud to announce the opening of a new location, making its sought after services more accessible to customers in Nassau County and Suffolk County, Long Island, NY. Having been founded back in 2004, the company already services the five boroughs of New York City, and the firm's continuing growth is certainly testament to the impressive demand for its low-cost security solutions.
So what led Rolling Gate NYC to open a new location? Well, with the existing location unable to cope with the sheer demand for its services (and especially for garage door services), the new store will enable the company to fully realize its dream of providing a 24-hour service for its customers.
The spokesman of the company said, "It pays to know what our customers want. As a business owner in the state of New York, I, for one, fully understand the need for rolling gates that do their job: to keep my property and business safe. Rolling Gates NYC was started to do just that for businesses in the area, through the high quality of our gates, and by providing a truly outstanding customer experience, with experts on hand to offer advice, as well as same-day installation and repair."
With a number of companies offering rolling gates, Rolling Gates NYC has consistently stayed ahead of the pack, it says, through the sheer quality of both its products and the customer experience, which is further exemplified by its 24/7 emergency service perhaps illustrating their desire to help keep owners of both residential and commercial property in the New York area safe.
Rolling Gate NYC's affiliations with NYC companies such as Prada, Lacoste, and Gap are certainly evidence of the company's claim to be the best in New York. The opening of the new store allows residents and businesses in Suffolk and Nassau Long Island the chance to take advantage of what many well-known local firms agree is the best rolling gate installation & repair service in-state. The address of the new location is at 1 Garvies Point Rd, Glen Cove, NY 11542.
Contact: Rolling Gates NYC
Phone: 212-202-0747
Web Address: http://www.rollinggatesnyc.com