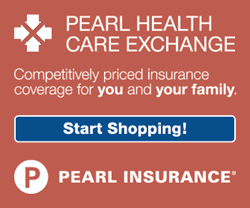 We've designed a robust exchange program that provides quality insurance at affordable rates
Peoria Heights, IL (PRWEB) December 15, 2014
Pearl Insurance is now offering the Pearl Health Care Exchange, a private exchange marketplace for competitively priced insurance coverage. This custom solution gives individuals access to thousands of plans offered by more than 300 of the industry's top health care carriers. This exchange also allows users to avoid the impending tax penalties by enrolling in a plan.
"We've designed a robust exchange program that provides quality insurance at affordable rates," said Greg Ketay, Senior Vice President of Underwriting and Risk Management at Pearl Insurance. "We are very proud of this exchange and are even more proud to be providing this benefit."
All products offered by the Pearl Health Care Exchange meet or exceed the U.S. government guidelines of Minimum Essential Coverages as outlined in the Affordable Care Act Individual Mandate. Open enrollment began on November 15. Individuals have the option to shop online at pearlinsurance.com/exchange or over the phone at 855.465.0202 and get free advice from a licensed agent while choosing a plan. Enrollment is required by December 15 for coverage beginning January 1, 2015.
By using the Pearl Health Care Exchange, users gain access to all available Gold, Silver, and Bronze marketplace plans in their local areas and have the ability to estimate available federal tax subsidies and apply them directly to their health plan to receive lower monthly premiums. Exchange carriers include Aetna, UnitedHealthOne, Blue Cross Blue Shield, Cigna, and Humana. Plus, individuals may choose from a variety of additional off-exchange plans from multiple top carriers.
Pearl Insurance has 60 years of experience providing the industry's top insurance programs. Pearl Insurance is ranked among the top direct-marketing third-party administrators in the United States. If you would like more information about the Pearl Health Care Exchange, please contact Scott Whitaker, Executive Vice President of Business Development, at 309.679.0283.